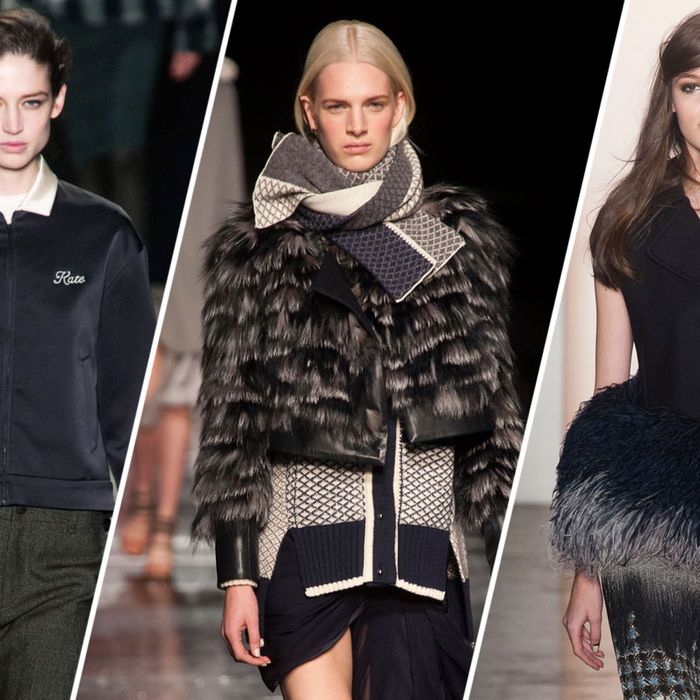 As always, there are hundreds of fashion shows on the New York schedule and countless more in Europe. For designers trying to establish themselves and define their personal aesthetics, that's an awful lot of cacophony to drown out. It's a bit like trying to deliver an original soliloquy while other performers are emoting all around you. It's easy to be thrown off track.
One couldn't help but think of this problem over the past couple of days as designers such as Prabal Gurung, Peter Som, and rag & bone's David Neville and Marcus Wainwright unveiled their collections. The team at rag & bone has always had such a clear notion of what the collection is all about, with its tomboyish street style mixed with a dollop of femininity and a bit of British sass. The collection that came marching down the runway Friday night was especially focused and lighthearted. Everything about it came across as unforced.
It made kitschy references to bowling shirts and varsity jackets — all of them embroidered with the names of the models who were wearing them. The skinny, lace-up Grease pants and the buffalo-check parkas mixed sexy with a little goofiness.
One could envision the clothes on a city street — or a suburban one, for that matter. The shapes were classic and the aesthetic familiar, but the sensibility was wholly that of the brand.
Why does it seem like it's so easy for some designers to put on blinders and stay in their lane while others seem to get distracted and wander all over the track? It is tempting to suggest that, perhaps, it's owing to a failure of confidence — but that seems too simple an explanation. One does not launch a fashion business — with its level of difficulty — and not have chutzpah to spare. But it does seem that designers whose work is more focused on dressing consumers than it is on inspiring them have an easier time.
Designers who are constantly on the hunt for some new trick to dazzle and woo a customer — and refresh their own psyche — sometimes seem to get lost during the hunt.
Gurung mounted a dramatic set at Skylight at Moynihan Station for his fall 2014 presentation, inviting his audience into a long rectangular space with gold, taxi-size gongs hanging from the ceiling as the only backdrop. (A side note: If you're going to bring in gargantuan gongs, you are obligated to bang them — at least once, please.)
The first models on Gurung's runway wore gray mink jackets trimmed with Mongolian lamb atop draped chiffon skirts with billowing sashes. Showing "winter" chiffon on an actual winter day that had many a guest longing for a personal, transportable bonfire is pure bravado. But Gurung's vision ultimately looked so feminine and elegant that it won the day. One took pure delight in his fantasy. Gurung had more treats to serve up, including waffle-weave sweaters that fell below the hips and were slit up the side. And his color palette was filled with luscious hues of orange, cinnamon, coriander, and curry.
Gurung transported his guests to a place deep within his imagination — to these eyes it was a pleasant dream of India and Nepal (where he grew up), but with a bit of uptown-downtown New York idiosyncrasy mixed in. But about halfway through the presentation, Gurung seemed to stop trusting his own aesthetic and the collection was soon filled with curious blazers slit at the side and laced with satin and chiffon scarves that wrapped incongruously around the body. The models appeared tangled in their own accessories and Gurung seemed distracted by notions popularized by other designers such as Haider Ackermann and Joseph Altuzarra. And while no one owns sashes and a certain kind of ethnic print, or bells jingling from shoes or hemlines, Gurung wasn't able to take those ideas and make one forget how they were used in the past.
Peter Som's collection, which he showed on Friday, had a similar weakness. He is a wonderful colorist and his lacquered-wool tops in rich caramel, shapely dresses with exaggerated darts, tops fluffy with ostrich feathers, and wonderful dresses in blurred floral prints were a reminder that few designers aside from Som can make a convincing argument that modern women should bother dressing up just to go run errands or grab a bite to eat. Som makes you want to put on a cocktail dress just to meet up with friends at the neighborhood bar.
But Som also made it tough to shake off the memory of the fall 2013 Dries Van Noten collection, with its emphasis on feathers and floral prints.
Most consumers are not keeping track of which designer did what when. So the point is not a matter of where a designer finds inspiration or what he counts as his influences. Instead, it is a question of focus. When outside references leave such a distinct footprint, one is left wondering: Who is Prabal Gurung, really? Who is Peter Som? As designers, they are inarguably talented, creative, and dynamic.
But amid all the noise of Fashion Week, they have not answered the single most important question: What is their brand?