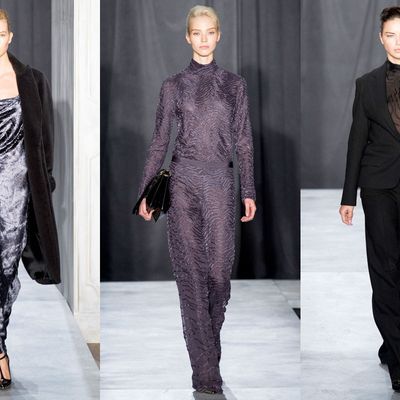 As much as it seems like a contradiction, it is possible to enjoy the vibe of a fashion show, love the attitude exuded by the models, applaud the point of view of the designer, and still not like much of the collection. This was the uncomfortable situation at Jason Wu's runway show Friday afternoon.
The first model to march through the carved archways framing Wu's runway was dressed in a black wool crepe suit. The black blazer, with its broad lapels, was spread wide enough to reveal a sheer black turtleneck that cast a light shadow over model Adriana Lima's cleavage, which was, by the way, rather spectacular. The shoulder line was strong and wide. And the model walked with confidence.
Intellectually, there was plenty to admire — from the strength conveyed by this curvaceous woman on his runway to the viability of a simple black jacket and a matching pair of trousers in a woman's wardrobe. But the cut of the jacket and the heft of the fabric added bulk and weight that kept the silhouette from being as lean and aerodynamic as it could have been.
For fall 2014, Wu emphasizes a wide, powerful shoulder — and while his statuesque models ably carried off his generously cut silhouettes, that still did not deny their bulk. His coats, in a mix of leather, fur, and shearling, are oversize and luxurious but without very much grace. Everything was just so very big — and with adornment to boot.
Wu prefers dresses that are cut on the bias so that they slither down a woman's body, gently highlighting every curve. But when they are covered with astrakhan embroidery, it gives off the look of a thousand rows of speed bumps interrupting what should be nothing but smooth curves.
Much of the collection was reminiscent of the eighties and early nineties, a time when Donna Karan depicted the inauguration of a female president in her advertising, and the idea of an ultrapowerful woman was considered edgy and daring.
There's plenty from that period that is worth referencing — including the way in which women were often depicted as Amazon beauties — but the difference between then and now is a matter of finesse. Women have progressed enough that they need not be Amazon warriors. They may still have to fight for their full rights, but they don't need to do so with a sledgehammer.
Wu's vision as a designer is evolving toward an aesthetic that celebrates a woman who looks physically strong but also exudes mental toughness. And it is a pleasure to watch the models on his runway walk with such determination and confidence. But the clothes, particularly those that would best be described as daywear, look cumbersome and unwieldy. They are simply too obvious. They call to mind the feeling of trying to have a tête-à-tête with a Broadway performer who can't stop emoting broadly enough to reach the cheap seats. The blazers and overcoats are pitched at too high a volume. FASHION! POWER! TOUGH!
Shush.