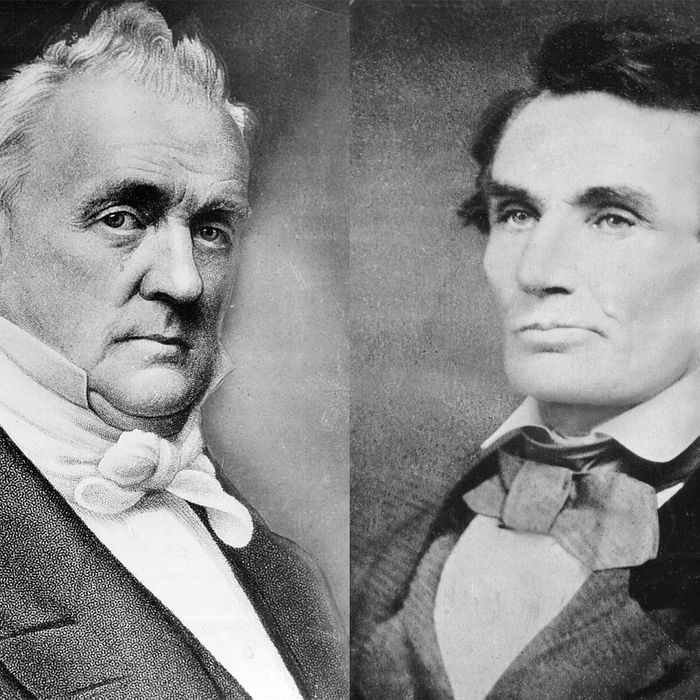 Hey. Happy Presidents' Day. Do American History, Congressional hearings,  patriotism, life, liberty, and the pursuit of happiness make you feel funny things? Then presidential erotica is probably for you.

Carrie Murphy at the Gloss uncovered a treasure trove of sensual presidential erotica that I never knew existed, but am kind of glad I discovered, even though it is somehow weirder than Dinosaur erotica.
While the ebook market is dominated by one Catherine Devore and her series Abraham Lincoln Presidential Fuck Machine, there exists an entire Tumblr, Hail to the Slash, dedicated to amateur erotica starring our founding fathers. On Hail to the Slash, Abraham Lincoln and John Buchanan take arm-wrestling to the next level. At one point, our first president and Alexander Hamilton engage in ass play; in another, James Madison and Hamilton (who appears to be the James Deen of presidential porn) have this encounter:
"The man turned around "ALEXANDER HAMILTON?!"!?" "in the flesh babay, or did you forget last night?" "damn" thought Jamie "how much tea did I drink last night" "good morning baby" said Jamie out loud to alex "I want you to spread it all over my body like you're gonna tar and feather a loyalist babay" said alexander. "spread what?" asked Jamie "freedom" said the exotic man from somewhere in the middle of the ocean somewhere. "there's no time. We better get going" said james Madison nervously "round two?" asked alex "no the constitutional convention" said james" [SIC, throughout.]
Truly moving. Truly. As the holiday comes to a close, meditate on what it means to live in a country where people are free to imagine Dick Nixon, Rockhard Obama, and Lyndon B. Johnson getting rug burn in the Oval Office.