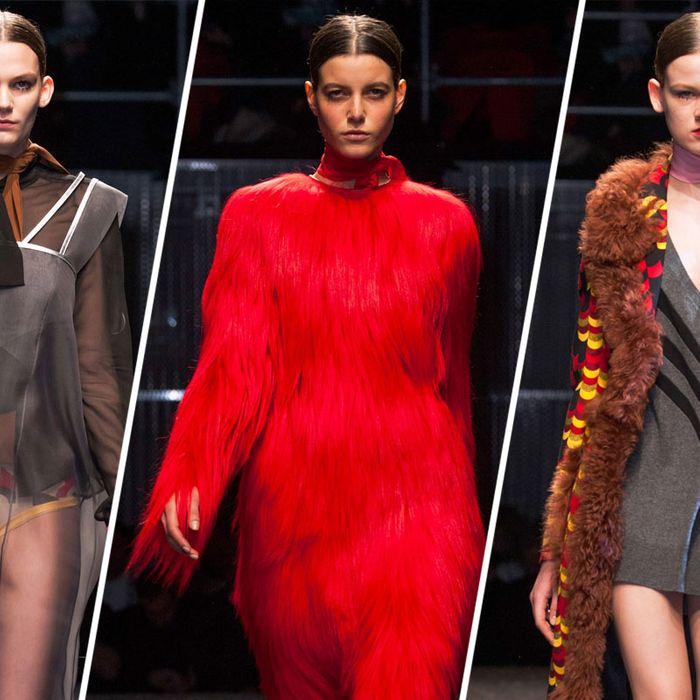 As soon as we entered the building for today's Prada show, it was clear that the mood from Miuccia Prada's artful, athletic spring collection was a thing of the past. This season's show took place in a dark industrial space, with walls and floors covered in fabric. A chain-link fence surrounded the crowd. 
It was the same staging as Prada's recent men's collection, called "Act 1" — and today's show, which was titled "Act 2," felt like the next chapter. An orchestra, led by conductor Francesco Bossaglia and with a solo performance by singer Barbara Sukowa, played music mostly by German composers such as Kurt Weill and Arnold Shoenberg. From the staging and the music, we knew were in for an industrialist, Bauhaus fantasy.

As the music pulsed throughout the room, models came out in silky dresses and big boxy coats. There were a number of standout shearlings in gold, purple, marigold, and black layered over sheer dresses or loose Chevron knit sweaters. Bauhaus prints felt like they were made for a woman sitting in a Viennese café. Each model wore wedge heels, with skinny scarves tied round their necks. Flap-front bags with thick chain straps were carried behind them like messengers.

Perversion is the word that people often throw around when talking about Prada's message. But it has to be: Sex, intellect, and the modern woman are constant themes in her work. And this season, those themes manifested themselves in the heavy shearlings that protect from the cold, but are worn over sheer layers that reveal. Rubbery wedge boots seem practical for weather, but are also kinky. Scarves are meant to keep one warm, but they could be perceived as sexually suggestive. Same goes for a red shaggy goat dress, which was thick and warm, but felt animalistic and called attention to the leg. Prada seems to be posing a question for women next fall: Do you want to look smart, or do you want an air of seduction? Judging from this collection, the answer is both.