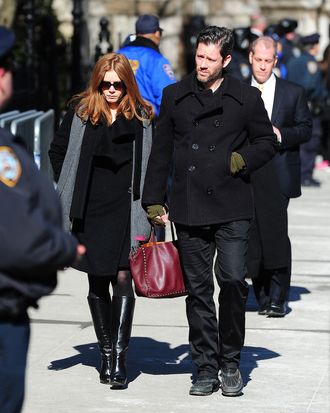 Photo: Alo Ceballos/Getty Images
Well, this is pretty gross: Two fashion companies are using the tragic occasion of Philip Seymour Hoffman's funeral as a moment to push their products, "Page Six" reports. After Amy Adams attended Hoffman's funeral, a publicist for Valentino apparently sent this e-mail to press:
"We are pleased to announce Amy Adams carrying the Valentino Garavany Rockstud Duble bag from the Spring/Summer 2014 collection on Feb. 6 in New York."
Whoops? Valentino has since backtracked and apologized for the "innocent mistake." A spokesperson said they were not aware the photo of Adams was taken at Hoffman's funeral (though a caption plainly described the location). A rep for Adams says: "The suggestion she would use this moment to participate in a promotion is truly appalling."
Valentino spokeswoman Mona Swanson told the Cut that Adams had nothing to do with the faux pas.
We sincerely regret releasing a photo to the media this morning of Amy Adams with a Valentino Bag. We were not aware the photograph was taken while she was attending the wake of Philip Seymour Hoffman. It was an innocent mistake and we apologize to Ms. Adams who was not aware, or a part of, our PR efforts.
Reports also mention that Ugg sent boots to funeral attendants in the hopes that they would wear them. And to think, we thought funeral selfies were as offensive as you could get.