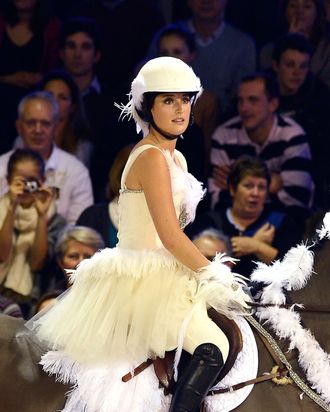 Photo: Pascal Le Segretain/Getty Images
Gucci just announced the appointment of Bruce Springsteen's daughter, nationally ranked equestrian Jessica Springsteen, as Gucci Equestrian Ambassador. You've definitely heard of that title before and connected those words before in your brain, because it's a real title and a useful epithet that means a tangible thing in this system of language that humans developed over a period of time on Earth.
Springsteen is an accomplished horsewoman. She also wore Björk-style swan attire to the 2013 Gucci Paris Masters. Gucci's creative director, Frida Giannini, promised in a statement that she has "ensured that the design of this new wardrobe provides [Springsteen] with pieces that manage to be both technically correct and stylish."
This is a brand that just created the title "Equestrian Ambassador" out of whole cloth and princess dreams, and so I trust that "technically correct" is right at the forefront of their priorities.