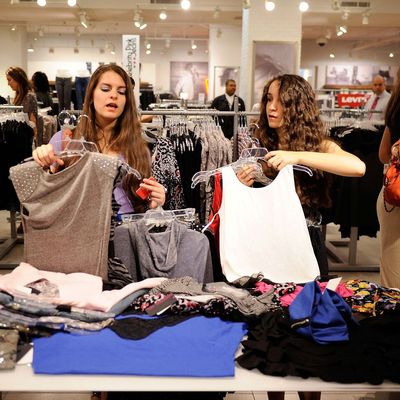 Photo: Jemal Countess/Getty Images
Recent analysis shows that sales are are struggling at stores geared to the tastes of the mysterious American teenager. A survey conducted by Thomson Reuters shows that stores like Abercrombie, American Eagle, Aéropostale, and Wet Seal fared worse than every other retail category in the fourth quarter of last year. As one analyst at BMO Capital Markets said, "It's enough to make you think the teen is going to be walking around naked. What happened to them?"
Possible explanations include high unemployment among teens, a glut of teen-oriented stores, the growing dominance of technology (rather than clothes) as a status symbol, and the prevalence of online shopping. More than three-fourths of teenagers shop online, where they can track down very specific items. An analyst at Barclays, Matthew McClintock, notes that if teens see their leader in a certain item, they can find it on the Internet, stat: 
Today, if you saw that Justin Bieber got arrested drag-racing … and you saw in the picture that he had on a cool red shirt, then you can go online and find that cool red shirt and have it delivered to you in two days from some boutique in Los Angeles.
More compelling, however, is the rationale presented by all-star youths 19-year-old Tsarina Merrin and then 20-year-old (not a teen) Ava Tunnicliffe, respectively:
When I think of who is shopping at Abercrombie. I think it's more of people's parents shopping for them.

I was a fan, in middle school. I feel like style has moved on, and Abercrombie hasn't.
It's over, because it's over.