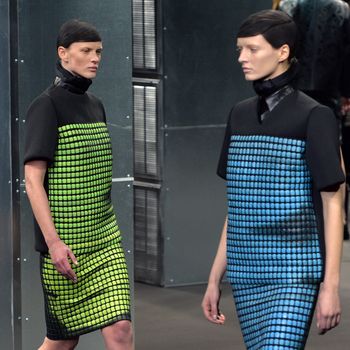 Since the Alexander Wang show happened on Saturday, we've been hearing a few horror stories backstage about makeup artists not loving the bleached-eyebrow job the designer gave his models. And yesterday, the Cut saw Fei Fei Sun with her eyebrow color back in place at Derek Lam and today, Anne V (Vyalitsyna) at Zac Posen, with normal-looking brows. She told the Cut, it was all thanks to an "eyebrow party" after the Wang show and some good old, boxed color. Here's Vyalitsyna:
We bleached them back. We had a dying eyebrows party after the show. Models hate bleaching eyebrows, but it is a look. You do whatever you had to do. [After the show,] there were a few makeup artists. They told me, "You should keep the color for fifteen minutes." And then I was checking in the mirror, and I was like, "It's been five and they look fine."

I've done my eyebrows myself. Sometimes you run from show to show, you just don't have time. And sometimes people don't really care as much about doing a good job, so I just usually go and buy L'Oréal boxed color and do it myself. That's actually the best thing. Because if you use mustache dye, the color doesn't come out as nice. When you use actual hair color in a box, it really nice and is very gentle on your eyebrows.
The model after party no one heard about.