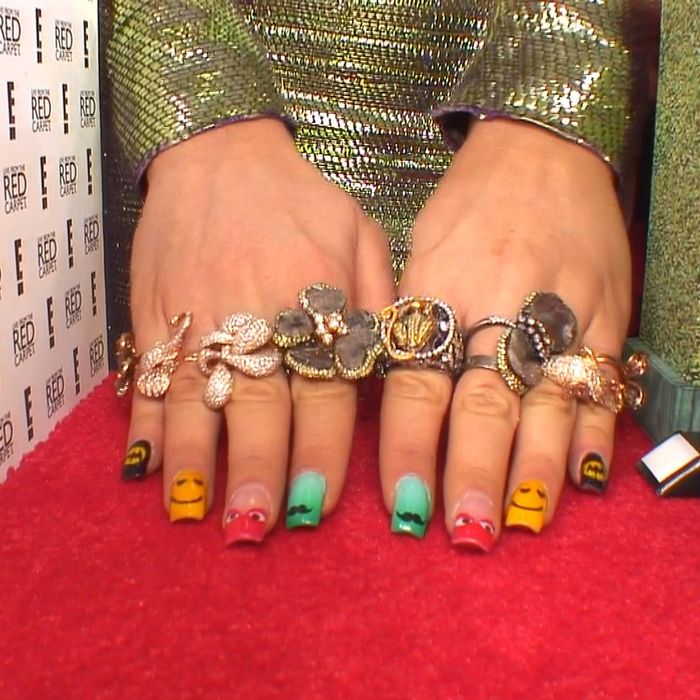 You know the mani-cam spiel by now: "Cool [Enter Celebrity Name]! You have fingernails!! Those fingernails have some kind of painted color or design!!! Place your hand in this clever red-carpet diorama and talk about those nails!!!!" And what will you do while you make awkward small talk about these fingernails? How about a finger cakewalk, maybe a little cancan, or the ever-original two-finger walk down the mini carpet?
Every award show, people revolt against the mani-cam — hate-tweeting incredulity, apathy, and vitriol at its very "undignified" existence, as Mickey Boardman put it — and yet still, it is thrust upon us.
When the mani-cam debuted at the 2012 Emmys, some hailed E! as red-carpet revolutionaries. Maybe nail-art appreciation had reached a fever pitch, or maybe someone was sniffing nail glue, but at the time it seemed like a novel, albeit silly, idea. But with each recurring season — after only two years, the shtick is familiar — this new aspect of red-carpet coverage is about as captivating as watching paint dry, only worse, because it's already-dry paint. Does anybody even want to do this anymore? Definitely not Elisabeth Moss: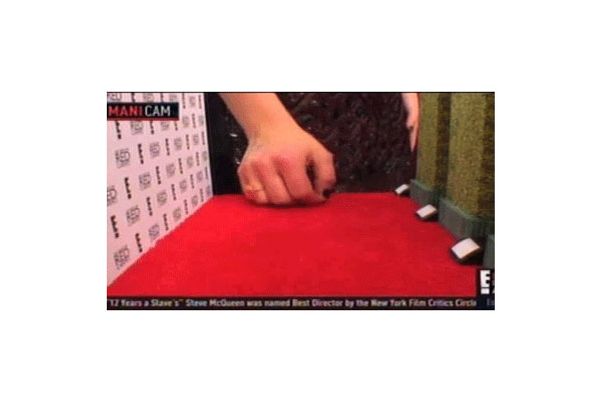 There's nothing wrong with a good manicure, and someone has to give Zooey Deschanel the chance to show off her nail art, but the overly cutesy mani-cam just brings the whole joy of watching the red carpet down a notch. Or two. Or more. Who can count that low? Because in addition to being boring, it's creepy to give airtime to a single disembodied body part. You know who typically likes disembodied human body parts? Serial killers.

Just imagine the response if Ryan Seacrest invited someone to E!'s "cleavage-cam." Step right up, Meryl Streep, we'd like you to pose for the neck-cam! Sandra Bullock, please turn around for your moment on our under-butt/Spanx-cam! Also up next? Mole-cam! Great for diagnostic purposes!
America is stuck with the nail porn this Sunday, but lets hold out hope that some celebrity rebels and shows their anxiety-ridden, gnawed-raw, ragged hangnails and unfilled ridges into that diorama.
In the meantime, the Cut will be doing what all activists do these days: tweeting our outrage, rousing the troops and trying — one finger at a time — to bring this torture to an end.