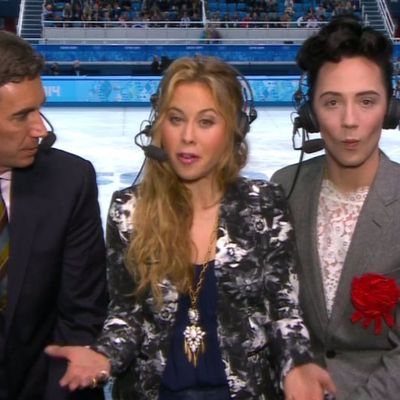 Photo: @BuzzFeedSports/Twitter
We almost want to ask Johnny Weir to turn down his shine, because we're running out of superlatives worthy of his Sochi wardrobe. Almost.
Today was a special day because our gold-medal favorite in clothes-wearing wore two unbelievable outfits. First, his on-air lewk, a combination that's quickly becoming his standard: a fitted blazer, leather leggings, Rick Owens wedges, plus a whole lot of fabulous. Today the fabulous was provided by a lace shirt, a large red flower pin, and hair several inches higher than it was yesterday.

But what does he Weir when he's just casually hanging out around Sochi? He must dress down. Well, today he revealed a second look while on a fishing expedition with TV host Billy Bush. His fishing gear included a knee-length fur coat and Valentino boots perfect for wading into the Black Sea. Can't stop, won't stop.