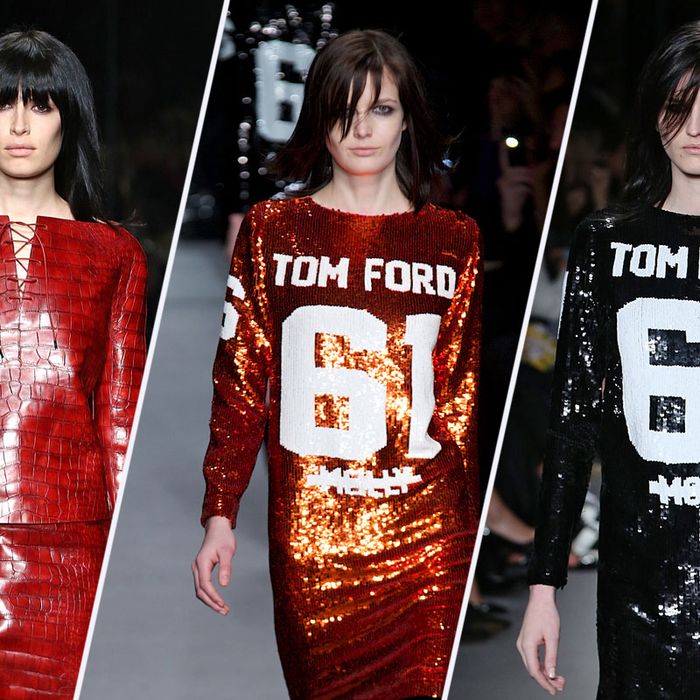 Remember Jay Z's "I don't pop Molly, I rock Tom Ford"–inspired BBP football jersey, emblazoned with the designer's name, the year he was born ('61), and the word MOLLY struck through? Today in London, Ford unveiled what he's calling "a knock-off of the knock-off" — a sequined evening-dress version, completing his and Hova's circle of admiration.
The dress (or dresses — there was an orange version and a black version) almost stole all the attention at Ford's fall/winter 2014 show tonight. But there were other notable stars on the runway, namely Liberty Ross and Karen Elson. Stella Tennant was also on hand to close the show, pausing halfway back up the catwalk to pivot around for a final fierce pose. It was all nostalgic enough to make you dream that you were back at Gucci, circa 1997.
But in other ways, there was a notable move forward this season. Ford's been holding proper womenswear shows at his own label for a year now. For F/W '13 he shared a wildly ostentatious and colorful collection that received mixed reviews, and for S/S '14 he showed a more streamlined selection of glittering dresses. And finally, today for fall 2014, the opening look was a black velvet dress with long sleeves and a high neck. It was simple, plain, and covered-up, and it made a clear statement: You weren't expecting this, were you? We really weren't.
From start to finish, there was a more subtle feel to the collection — yes, Ford still included his sequined gowns, animal skins, and neon furs, but they were more selectively placed and surrounded by a whole lot of black. The womenswear line seems to have followed Ford's menswear into what he loosely described last month as "sportswear": Today we saw cashmere hooded sweaters and wool skirts. The effect was sleek, expensive (of course), and cool.
In the front row the buzz revolved around Bradley Cooper and Suki Waterhouse, fresh off the Burberry show. The British press have been keenly following Cooper and Waterhouse's romantic adventures over the last few days: Apparently they were spotted drunk and in "a fit of giggles" at 3 a.m. on Saturday night before going to the BAFTAs together on Sunday. And tonight, we can happily confirm that Cooper was smiling winningly at everyone and looking delighted to be in the building. He seemed especially enthusiastic about engaging Hamish Bowles in conversation, leaning half out of his seat to keep the chat going when they were separated by Ford's partner, Richard Buckley.
Afterward, of course, half the front row headed backstage to congratulate Ford. But for us, the show won't truly be over until we see Beyoncé wearing the sequined "Molly" dress.