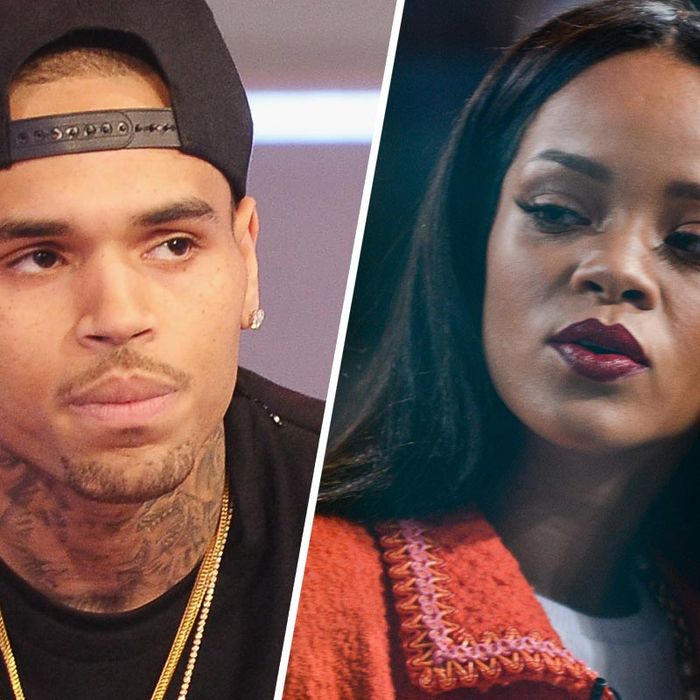 Photo: Michael Loccisano/Getty Images,Ray Tamarra/GC Images
Who hasn't fallen for this one before? Chris Brown and Rihanna are reportedly back in contact since Brown — whose restraining order expired in 2011 — sent Rihanna a happy birthday text, sparking rumors of rih-kindled romance. You probably don't even need "Page Six" to explain how this went down:
"Chris started texting Rihanna on her birthday [Feb. 20], and the two have been sending each other a flurry of texts ever since," said a source close to the singers. "Rihanna didn't write back right away . . . but later that night she started getting sentimental and texted back, 'thank you,' and asked how he was," our source added. "Since then, the two haven't stopped texting each other and friends are freaked out that she's going to start dating him again."
What is it about birthdays that make one so susceptible to ex-texts? Is it just the sentimentality (drunk variety), or is it also the prospect of a familiar hookup? (And you're already wearing such a cute outfit!) Being the center of attention all day can make one an unusually magnanimous texter: The ex is psychically reduced to just one of the many loyal well-wishers in your inbox. Which is not to discount the fact that he remembered your birthday, because that is so telling. Unless you want write the whole phenomenon off as another facet of the annual aging-related psychodrama: We should really talk about what happened between us before my ovaries dry up.
At any rate, this textbook ex-maneuver appears not to have fully worked: The Brown rumors are still overshadowed by reports that Rihanna was spotted in Paris together together with Drake, and therefore her birthday ex-opening was already filled.