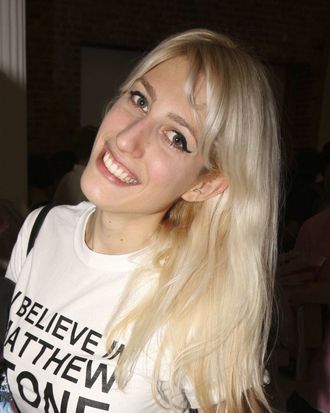 Photo: Dustin Wayne Harris/PatrickMcMullan
In November, Columbia College student Coco Young and Vogue sex columnist Karley Sciortino got real wild in the Butler Library on Columbia's campus. Purple Television just released the filmic product of this art house porn piece. You can watch it, if you want to. To recap, if you choose to just keep on living your life: There is semi-nudity, flailing, making out, cracked eggs dripping down foreheads, smashing of smashed eggs into the linoleum, flinging in hallways, and group back-licking.
The creators of INITIATIØN report that their film has a lot to to say. In an interview with the New York Observer, Young explained that it offered "critiques on the institution and society, in general," adding that it is also about the "ecstasy moment right before death or the moment of orgasm, which usually describes hysteria but is a humanly universal feeling." Sciortino, whose "Breathless" column for Vogue has previously discussed small dicks and the tragedies of Tinder, simply describes it as a movie "where I hazed some babes into a secret society in an Ivy League library." We believe she meant SECRET SØCIETY, but cannot confirm.