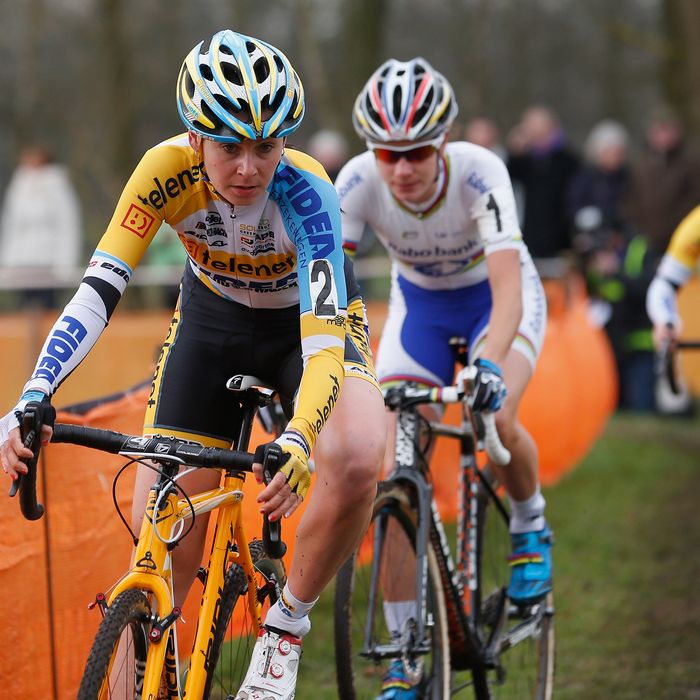 Photo: Harry Engels/Getty Images
For the first time ever, on July 27, 2014, female cyclists will get to race one segment of the Tour de France. Since its creation 110 years ago, the premiere cycling race has excluded female competitors almost entirely, but this year, the race's organizers are promoting a one-day, all-women race called La Course by Le Tour de France. The female cyclists will race the final leg of the Tour de France course, a few hours before the male Tour cyclists complete their three-week event on the same path.
Over the past few years, female cyclists have criticized poor funding and lack of promotion for women's biking races. La Course could win women's cycling some much-needed exposure.
Marianne Vos, an Olympic gold medalist and road race champion from the Netherlands, was part of a petition last summer to fight for a parallel women's race concurrent with the Tour de France. Though this is only a small segment of the race, Vos said in a Tour statement that she was "delighted":
I am particularly happy to take part, especially thinking about the majestic finish on the Champs-Elysées… The birth of this race is a revolutionary development in our sport. The Tour is the pinnacle of professional cycling … (this) could open up a new era for women's cycling.
Bonne chance to a new era of women's cycling! Allez, allez!