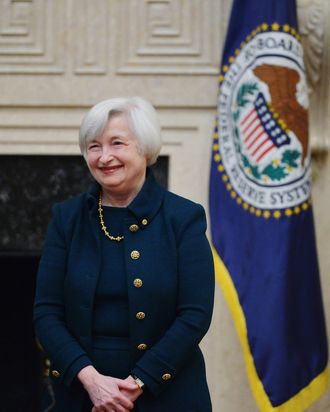 Photo: Mandel Ngan/AFP/Getty Images
Janet Yellen refuses to discuss the role gender has played in her career, not even to tease President Obama for accidentally calling her "Mr. Yellen." So the Washington Post went ahead and described all of the women-only headaches Yellen endured on her path to becoming the first female chair of the Federal Reserve — she asks not to be called chairwoman — for her.
Even though Yellen's appointment now feels long overdue, the Post profile is a vivid reminder that Yellen cut her teeth as an economist and an academic in a time when no one was circulating online petitions on women's behalves. She was the only woman in her Ph.D. class at Yale and one of two women on the faculty of Harvard's economics department. (The self-described token hires became fast friends, authoring five papers together.) She then spent two decades as a so-called "trailing spouse" to her Nobel Laureate husband George Akerlof, also a famous economist. She followed him to the London School of Economics and Berkeley, accepting the junior, consolation positions the schools offered her, including one in Berkeley's business school, considered second class to other economists.
"I realized she was very undervalued," LSE professor emeritus Meghnad Desai told the Post, of Yellen. "She was conscious that she was not being valued to the extent that she should have been."  He added: "I never thought that the world would finally recognize and reward her the way that it has. She has punched her way to the top by sheer ability."
At Berkeley, Yellen gave birth to her son in the summer of 1981 and went back to teaching the following fall — Berkeley had no maternity-leave policy at the time— in order to secure tenure by his first birthday. 
The Post stresses that Yellen and Akerlof crucially and seamlessly swapped roles as Yellen's star rose, with Akerlof trailing Yellen to D.C. and San Francisco and back. But her career-changing appointment to the Fed's Board of Governors came at the hands of another woman, Berkeley colleague and Clinton adviser Laura D'Andrea Tyson.