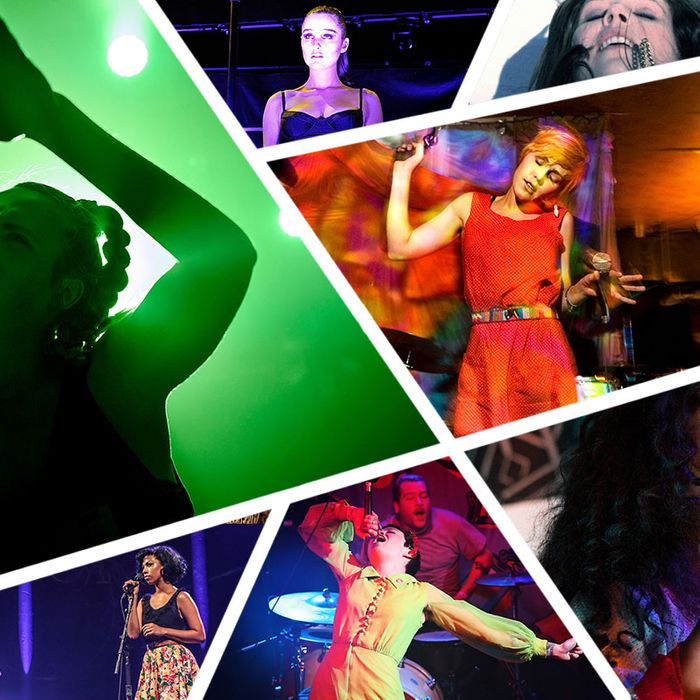 With the music portion of SXSW beginning this week and Coachella a little over a month away, festival season is upon us —  which means it's time to do a little spring cleaning of our music libraries and focus on the up-and-coming artists that will define the rest of our year.
Over the next few months, there are dozens of new releases and tours by female solo artists and girl bands who range from emerging to more established; women who bring fresh perspectives, new energy, and feminist power to a whole range of genres. From SZA's trap-influenced R&B to Banks's modern breakup ballads to Tacocat's girl-power surf music, click through our slideshow of the ten new girl bands, singers, and future superstars we're most looking forward to following this spring.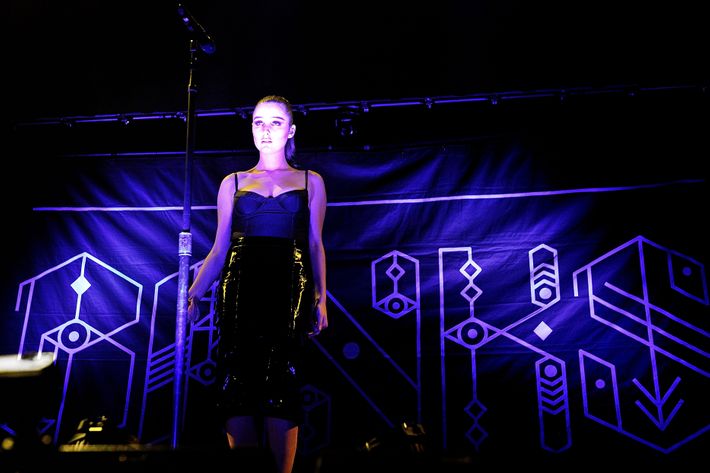 1. Banks
Jillian Banks is a 25-year-old singer and pianist who goes by her surname and writes total heartbreak music with a slight Fiona-tinged R&B influence over her sweet, intimate warble. (Last December, the Angeleno's song "Waiting Game" showed up in a Victoria's Secret commercial.) Once releasing her London EP in the fall, she toured worldwide with spiritual twin The Weeknd, capturing the tumult of love in a sweet lilt and light vibrato, piano and bass hanging foglike over all. On her latest single, "Change," Banks sings gut-wrenching lines like, "You so easily can make me cry, just 'cause you are in a mood" and, on the same song, "Call me out, you would say I need attention, just because I, ironically, put on makeup to look good for you." UGH! Have we not all theoretically reckoned with a partner acting so assed-out? Last summer,  Banks went OG on social media and gave fans her phone number, preferring to chat or text directly rather than mess with the internet. It was an unusual move, but Banks's lyrics are so direct, you can imagine she wouldn't want anything to get lost in translation.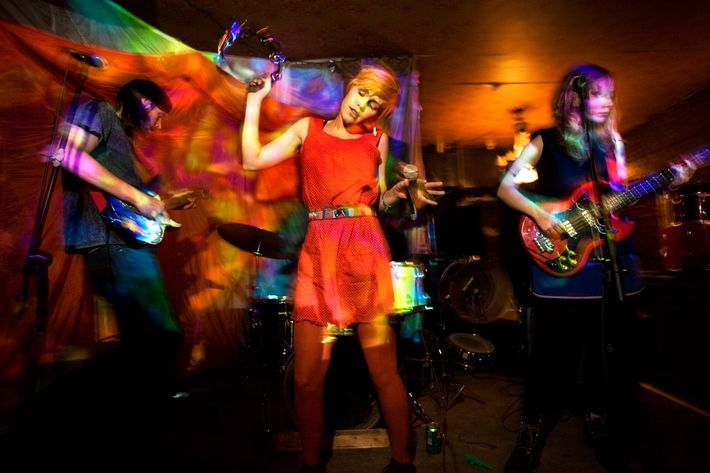 2. Tacocat
First things first: Tacocat has written the best that-time-of-the-month jam since Monica's "Don't Take It Personal." It's called "Crimson Wave," features a surf-guitar riff, references ditching work to go to the beach because all singer Emily Nokes's friends are on their periods and, for added oomph, its official video features humans dressed in homemade-looking crab costumes. The Seattle four-piece released their second album, NVM, in February, and it lays out a pretty convincing argument for relocating to Beach Blanket Babe City: feminist lyrics and fuzz guitars bump up on tambourine interludes and bubblegum harmonies, injecting poppy, punky songs with a very specifically Pacific Northwest vibe that hearkens back to '90s albums from K Records and Kill Rock Stars. Though they describe themselves as "Kurt meets Courtney," nostalgia's not really the thing: They're more in the business of making indelible pop music that lodges in your brain. Also, the word Tacocat is a palindrome. Best.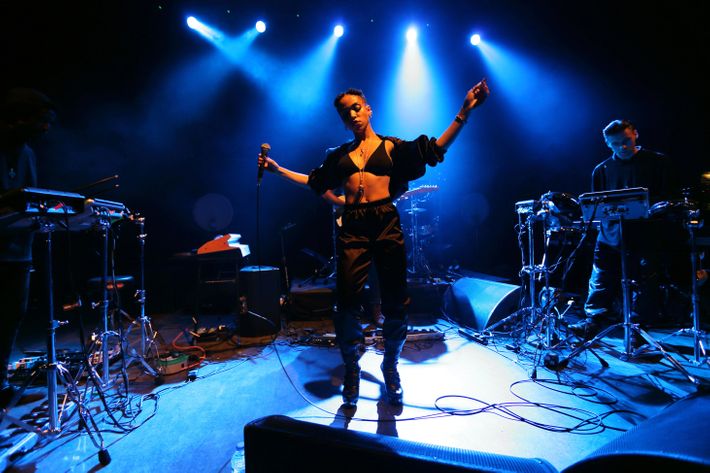 3. FKA Twigs
Tahliah Barnett is originally a dancer — that's her ice-grilling through her choreography in Jessie J's "Do It Like a Dude" video — but as FKA Twigs, her flexibility translates to her musicianship, too. There's no true genre for the ethereal songs the London-based singer chooses, traversing experimental R&B, electronic, even ambient; her wispy, sensual voice acts as the thread, floating across skittering drums like an atmospheric vapor. In September, she dropped her second official release, EP2, featuring topsy-turvy love songs like "Ultraviolet" that could only have come in a post-Aaliyah world, and there's more on the way: She recently collaborated with Los Angeles R&B group inc., on a kind of existential love song suiting both their ephemeral styles (with a video shot in black-and-white, of course). FKA Twigs is a SXSW must-see.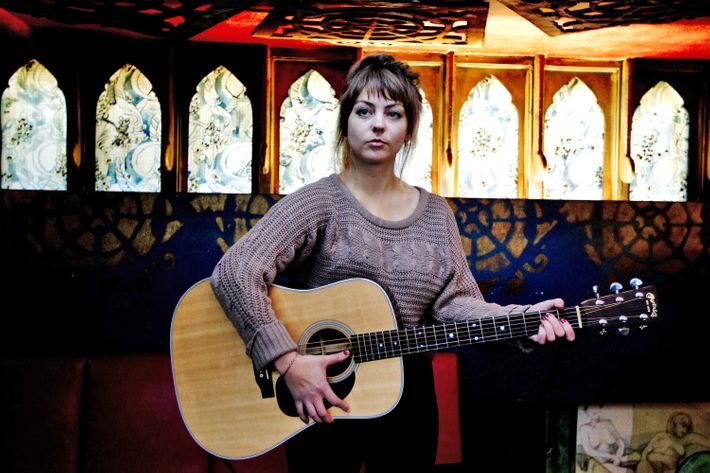 4. Angel Olsen
This Chicago-based singer-songwriter embodies everything that folk-imbued music should have in the millennial era: traditional storytelling, highly developed melodies, and a dreamer's eye towards her material, which transforms the super-personal to the universal. Her just-released album, Burn Your Fire for No Witness, is a sparse sweeping document about love, loss, and self-preservation, declaring "I'm neither innocent or wise when you look me in the eyes, you might as well be blind, because you don't see me no more." Even among all the bare-bones ballads, she's unafraid to be as bold as another badass Chicagoan, Liz Phair, and on tracks like "Forgiven/Forgotten," she even approximates her guitar crunch, sounding accusatory, defiant, and lost at once, shout-singing "I don't know anything but I love you!" on the chorus. Welcome to the modern breakup ballad! Everyone is totally confused at all times!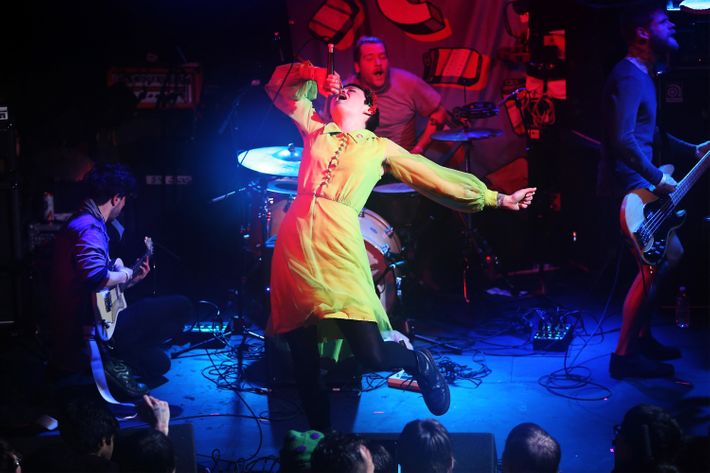 5. Perfect Pussy
This punk band is blowing up in such a traditional fashion, you'd almost imagine the internet never happened: In April of 2013, they dropped I Have Lost All Desire for Feeling, a five-song demo available on cassette for your thrifted Walkman and, if you must, Bandcamp for you techy MP3 types. Snarling with the determinate vocals of singer Meredith Graves and a host of competing guitar noise, it made it out of Syracuse, through the New York punk network, eventually landing in the laps of outlets like Pitchfork and SPIN before the band became national darlings. Is this 1994? It might be! Their debut album, Say Yes to Love, comes out March 19 on Captured Tracks; lead single "Driver" sounds cleaner and sharper than their demo, surely the advantage of a bigger budget, but their power is not lost.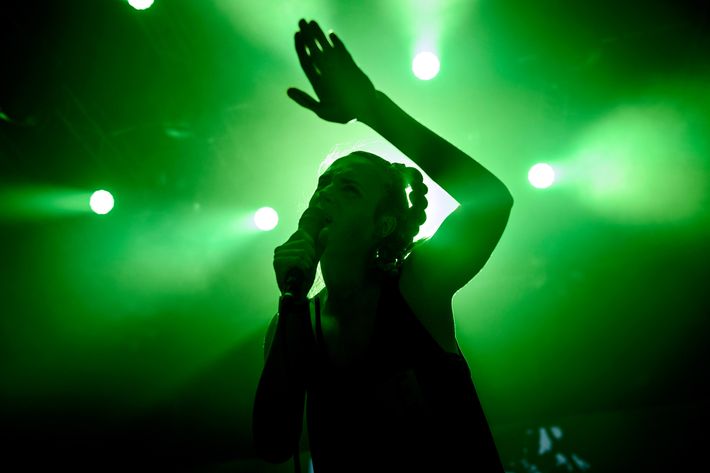 6. Mø
The latest singles from Danish pop singer Mø's new album are full of denials. "I don't wanna dance with nobody," she sings, ironically, on an upbeat dance track; on another, she beseeches that "I never wanna know the name of your new girlfriend" (understandable!) while '60s girl-group harmonies back her up. But her defiance is versatile, and when No Mythologies to Follow gains traction (March 10), its jam-packed, off-kilter pop songs are chart-ready without adhering to formula. She's worked with Diplo ("XXX 88") and covered the Spice Girls ("Say You'll Be There"), but with a unique, melancholy gravity (and marimba!) that recontextualizes both the Spice Girls and Diplo. Can we put in an early request for a tour with Haim, then schedule our funeral after we die of pop bliss?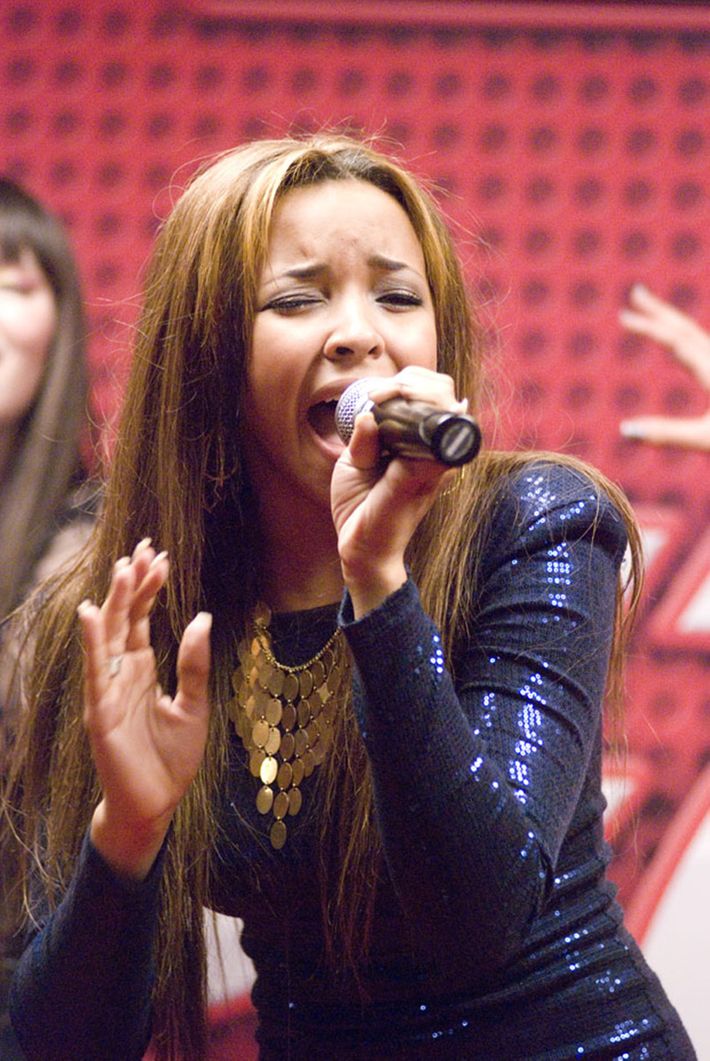 7. Tinashe
For three years, Los Angeles singer Tinashe has released a slew of singles and features that establish her as one of the most promising artists in the new crop of R&B singers. Just 20 years old, she possesses that soprano wispiness that's de rigeur in the new Saint Heron world (and she's been featured on Solange's website, accordingly), but she does not rely on it, instead combining futurism with classic verse-chorus pop-R&B like a more substantial Cassie. Last September's Black Water mixtape was a delectable primer for her first full-length, out sometime this year, with the recent, Schoolboy Q-featuring "2 On" adding a minor-key femininity to rap's smoking-driving-stunting narrative. Bonus weird factoid: Two and a Half Men devotees (wherever you are) will recognize Tinashe Kachingwe as Celeste, next-door neighbor and Jake's love interest, oddly enough.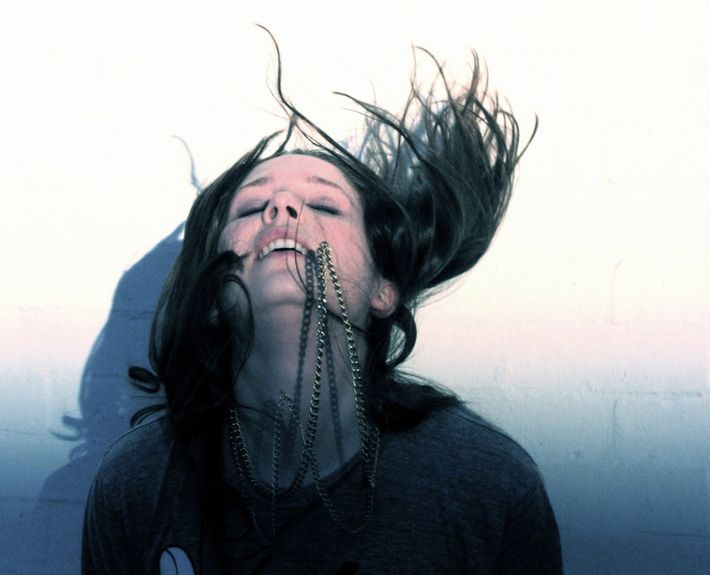 8. Mr. Little Jeans
Surely we can all agree that electronic pop music is one of Scandinavia's greatest exports, and Norwegian singer Monica Birkenes is another in the pantheon who proves it. She chose her moniker from a character in Rushmore, but the twee is in name only: She writes hefty hooks on smart dance music referencing disco, electro, synthpop, and new wave. She's still running on the steam of a few singles and EPs — listen to "Runaway," you will faint — and a 2011 Arcade Fire cover ("The Suburbs" has cracked a million views), but later this month, she'll release her first full-length album. The lead single, "Good Mistake," is sweet and amenable as a peppermint candy: not overly sweet, but hits the exact right spot.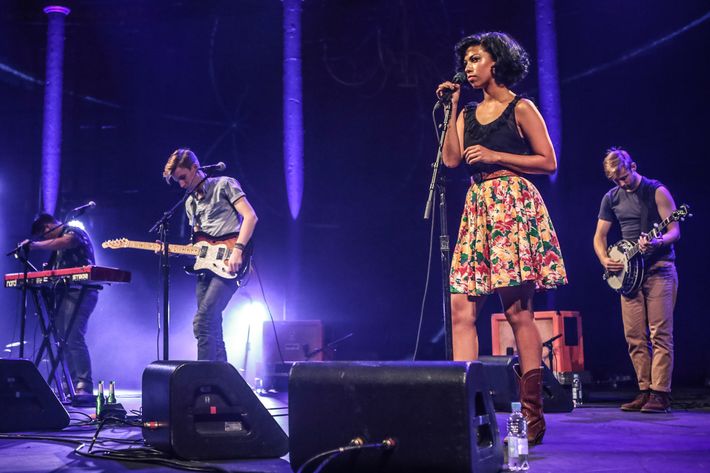 9. PHOX
Led by the poppy, folky vocals of lead singer Monica Martin, this Wisconsin-based psych band creates some kind of pastoral loveliness, and with seven members, you get a lot of layers: There's piano and clarinet, y'all. They've got the kind of soulful, broad sound that makes you imagine the horizon's just a little bigger than it is, and last year's Live at iTunes Festival release proves Phox plays well on big stages; we're getting live Mumford vibes and, in fact, that is not a dis. (Mumford is really good live!) They just signed to Partisan Records (debut album coming in June) and are embarking on tour with Laura Mvula, and they list their collective interests as "the behavior of domestic cats" so, you know, BFF away.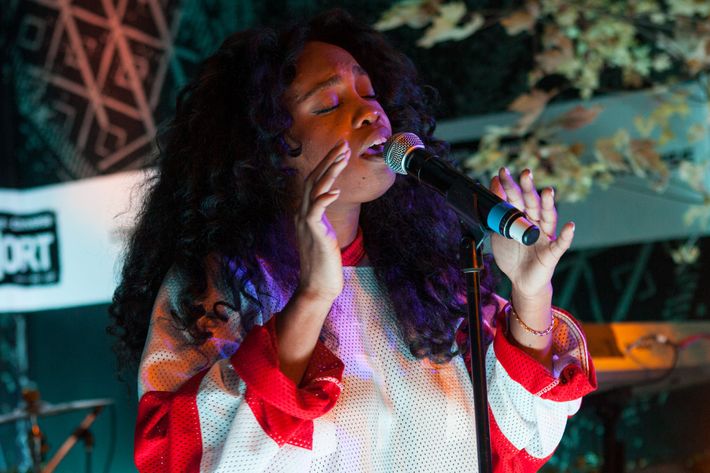 10. SZA
This young singer took our breath away last year on the strength of "Castles," the lead single from her S EP, which interpolated Fleetwood Mac's "Everywhere" into an introspective song about insecurity, and defined itself as "glitter trap." That's about right — her voice sparkles angelically, giving a lightness to the southern-inspired hip-hop beats on which she sings. SZA (pronounced "sizz-uh," à la RZA and GZA) is signed to Los Angeles's Top Dawg Entertainment, Kendrick Lamar's crew, and she's appeared onstage here and there with her compatriot K-Dot, so you can surmise her first album (Z, out April 8) will feature more trap music and awesome rapping. Until then, let's talk about SZA as fashion plate: mix-and-match florals, coordinated tops and skirts, psychedelic caftans — she is doing it.