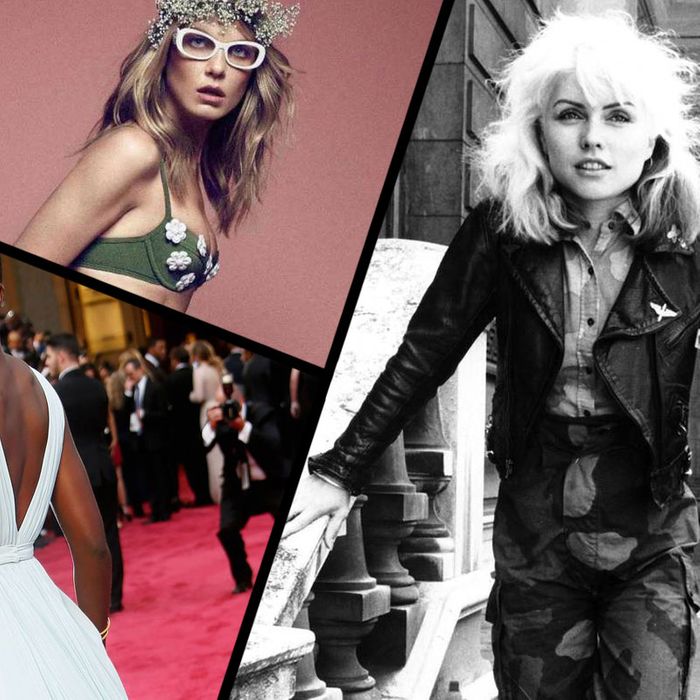 This week, the Cut's pursuit of female-centric topics led writers to scour all the editorial spreads from March fashion magazines, go wild with tales from the Oscars, and ruin social lives with all the dating apps.
1. Would you have what it takes to join Femen? You need no shirt, no smile, a flower crown, and some fighting spirit. Inna Shevchenko spoke to Kat Stoeffel about Ukrainian politics and using the body to convey power.
2. How is the Cut in a post-normcore world? Oh, just amused all day. You?
3. How did Louis Vuitton look under new designer Nicolas Ghesquière? He made a remarkable, rousing debut, Robin Givhan reported from Le Fashion Week in Paris. She also has essays on the teen angst at Saint Laurent, the dark beauty of Alexander McQueen and Valentino, and the Chanel supermarché.
4. What absurdity and beauty did we face with the March fashion magazines? Here are the Best and Worst, as decided by us. We have pronounced the Best Rihanna Hat and the Least Convincing Handywomen. Do you agree with us?
5. How do you spot the most badass of babes? Well, a biker jacket is a good place to start. Allison Davis gathered 25 super-cool women in motos.
6. How many days left until the Oscars? There are only like 360-ish days for you to up your criticism game! Here's a quick refresher on the Oscars 2014, the Oscars of the past: Everyone wore all sorts of clothes and then many people changed these clothes for the Vanity Fair party. The Fugs determined who wore the best dresses and who wore the worst. Two people (Jared Leto, Lupita Nyong'o) had wonderful stuff going on with their hair, so we spoke to their stylists. Two other people, Tara Lipinski and Johnny Weir, had great red carpet personalities, so we chatted with them as well.
7. What's up with our "It" girl of the moment? Well, Lupita Nyong'o is in her early 30s, quite a handful of years older than the usual ingénue. Maybe age won't be such a factor determining in determining the "It" girl factor?
8. Have you ever dated someone who uses a penis pump? Well, perhaps you are the Anonymous person who shared her story with Alyssa Shelasky.
9. What's the fastest way to get "the worst kind of bad reputation — the kind you didn't even have the fun of earning"? Ruin your social life by using a bazillion dating apps! If you're considering such a path, Maureen O'Connor has wise words for you.
10. What's it like to be the only black soloist in the American Ballet Theater? Allison Davis spoke to Misty Copeland about her story and her ambitious next steps.
11. Would you like a little shock of color to brighten your weekend? Here you go: It's a visually stunning slideshow of the best palettes from the fall runways. Bold chartreuse and decadent red!