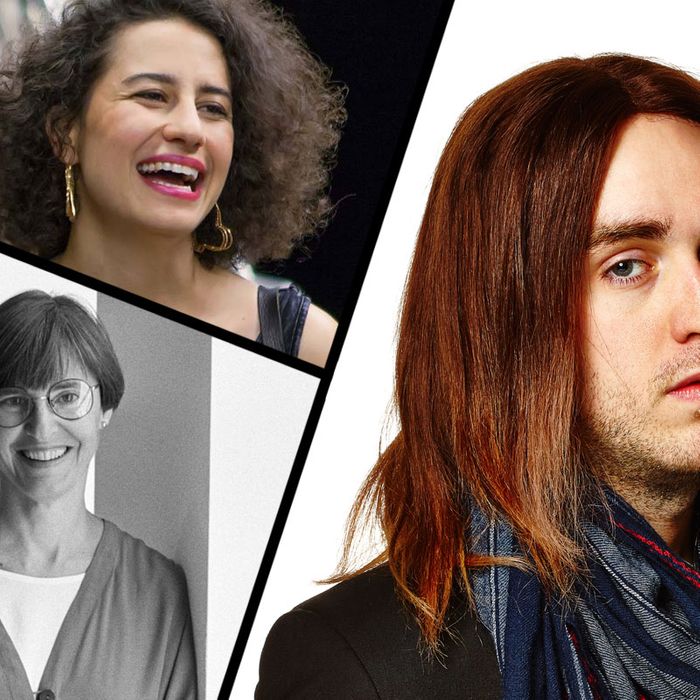 This week, the Cut's pursuit of female-centric topics led writers to go on a quad-date, try out dry conditioners, and talking about thriving with Arianna Huffington.
1. What would you look like with Jared Leto's beautiful hair? Will Stephen wore a Jared Leto wig for a week. Was he adored by everyone who saw him? You'll have to read to find out.
2. Who is that wearing a napkin as a shirt? Oh, it's Ilana from Broad City. Kat Stoeffel spoke to the show's costume designer Staci Greenbaum about Ilana's particularly appealing brand of inappropriate-chic.
3. April showers are approaching rapidly, do you have your Wellies and your umbrellas? Veronica Misako Gledhill has gathered all the best rain gear to protect you from droplets.
4. Are you in the best group-message threads right now? Maureen O'Connor is calling group-text threads the great digital BFF renaissance.
5. Do you too just want to be swathed in beautiful rectangles of many silks? Molly Fischer wrote about her adoration of mom fashions and Eileen Fisher. (Their last names are only one letter apart; it must be love.)
6. Are you currently looking for a man to date in New York? Here are two best friends who have a joint OkCupid account and are going on quad-dates with other best friends.
7. Is your dry shampoo feeling a little lonesome? Cheryl Wischhover obsessively tested dry conditioners. She calls them "fabric softeners for your hair."
8. Any wild new shoes for your participation in the sneaker trend? Isabel Wilkinson spoke to Riccardo Tisci about his new futuristic Nike collaboration.
9.  After having it all and leaning in, what is the new thing women will be asked to do? Third-metric-seeking, according to Arianna Huffington's new book. Kat Stoeffel spoke to the author about thriving.
10. How are you going to do the button-down shirt? Rebecca Ramsey has 20 different options for you.
11. And we looked back at "the beautiful and dynamic" L'Wren Scott, as Amy Larocca wrote in her remembrance. Allison Davis criticized the headlines that pegged her as a "girlfriend," and Erica Schwiegershausen gathered some of her most beautiful creations.