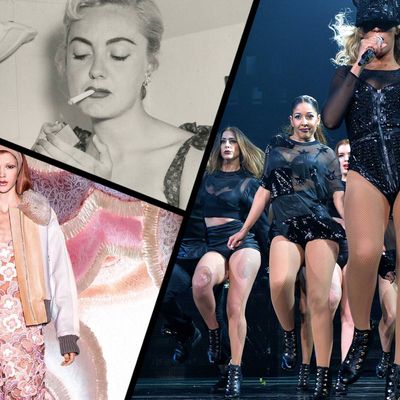 This week, the Cut's pursuit of female-centric topics led writers to consider consciously uncoupling, to defend a color, and to anatomize ugly crying.
1. Where can you pop, lock, twerk, booty-travel, and surfbort for exercise? At the Beyoncé exercise class, of course. Kathleen Hou reports.
2. Why was no one paying any attention to the Kimye Kover of Vogue? Ha, you're cute. Amy Larocca suggests considering why people draw the line of vulgarity where they do. Meanwhile, we learn a bevy of things about North West (child of Kim and Kanye), including that she was a-peeing, like the tiny diaperless baby that she is.
3. Got $28,000 burning a hole in your rucksack right now? Great, that's the exact dollar amount required to purchase the most expensive dress of the fashion season, Marc Jacobs's "Puffy Clouds Embroidery Dress."
10. Have things changed 103 years after the Triangle Shirtwaist fire in New York? Not really, writes Kat Stoeffel; the clothing industry is still terrifyingly dangerous.
11. Did you try to consciously uncouple this week? Good, it was the thing to do. If you're perplexed, we have a Gwyneth explainer. If you're unpaired, we've got a GOOP guide to recovering from sorrow. It's expensive, but luxurious.
12. Finally, are you interested in a small experiment with time travel? Try Cuba around the 1950s. Erica Schwiegershausen writes about Ramiro Fernández's collection.