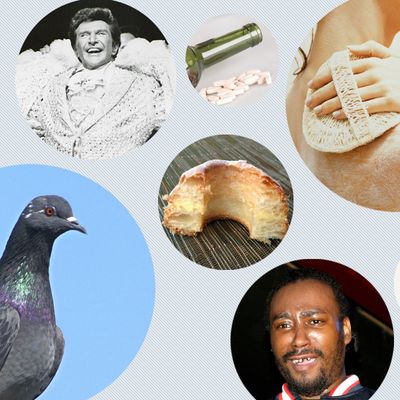 Photo: Photos: Getty Images
In a character-driven narrative, we witness the evolution of our protagonists; we see them grow and change through experience. So in the great bildungsroman that is season one of #RichKids of Beverly Hills, what did our heroes learn? What innocence was lost and what harsh truths illuminated the gentle, cloistered souls of the #RichKids?
For the two-month span of their winter's tale (January 19 to March 23 in our year 2014), here are all the things that the #RichKids of yonder hills have learned:
Roxy Sowlaty, our glitzy true innocent, learned about:
1. Liberace. He immediately became her "soul sister" and central point of reference. When trying on dresses for co-star Morgan Stewart, Sowlaty asks, "How Liberace is this?"
2. Squab. Sowlaty learns of squab's true nature. (Be they pigeon, squirrel, or Cornish game hen?)
3. ODB. She learns of his life and his death.
4. Necessities. Sowlaty discovers that loofahs are necessary.
Dorothy Wang, our practical pragmatist, learned about: 
5. Etsy. It's her dream. "How did I just discover ETSY??? #newhomeownersdream!"
6. The cronut market. One must get up early and wait in line to procure a cronut. Ownership of Hermès Birkins is not related to cronut buying.
7. Inequality. "Today I learned not all CVS locations are created equal — and the one in Westwood has no bags with handles."
8. Optical illusions. Wang learned she is much smaller and prettier in person
9. Effects of intoxication. Getting drunk increases language fluidity.
Jonny Drubel, the gentle and fearful singer-songwriter trust-fund baby, learned about:
10. Barriers. The barrier to knowing about true pain is getting your back waxed.
11. Stains. Drubel learned no one should wear a white shirt after getting a spray tan.
Morgan Stewart, our odious and knowing sage, discovered: 
12. Assets. She ascertains that the best part of face is her forehead.
13. Produce economics. Stewart is told the price of a banana is 35 cents.
14. Challenges. She learns how to open a bottle of wine. Consequently, she learns that "opening wine is the hardest thing in the world."
15. Effects of intoxication II. She learned she should not have wine after having teeth replaced at the dentist.
16. Effects of intoxication III. Stewart reports that tequila's effects are felt in the uterus.
17. Personal geography lessons. She learned where her sunglasses were (spin class).
Brendan Fitzpatrick, the loyal boyfriend, learned:
18. Components to healthy relationships: Sometimes girlfriends need space.
As an audience, we learned: "Every single house you move into needs to be saged."