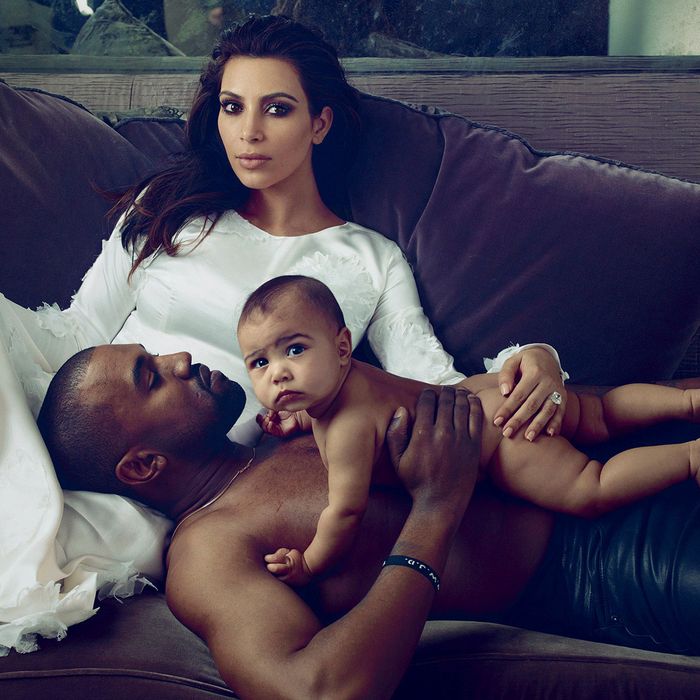 Photo: Annie Leibovitz/Vogue
While the universe considers the editorial meetings that led to a hashtag on a Vogue cover, the first excerpt of the Kimye cover story is now available online, and the full article — which officially hits newsstands tomorrow — is available for download.
In the Hamish Bowles–penned story, Kim and Kanye appear supportive of each other, each taking turns hogging the spotlight. Their life is revealed to be filled with dinners with friends (like Riccardo Tisci) and plans for a super-low-key, 200-person wedding in Paris this summer, which will either take place in the Louvre  or Versailles's Hall of Mirrors, according to Kanye. ("We could turn up," he says pensively.)
However, the article reveals that while Kimye are keeping it kasual, a day in the life of young Nori is a weird fantasy from which she may never wake. Here is what it's like to be the progeny of the #worldsmosttalkedaboutcouple, according to Vogue:
1. The only mobile in her nursery is the Tord Boontje Swarovski pink-blossom chandelier that hangs above her Lucite crib. It is framed by a "narcissism-nurturing mirrored wall."
2. Kris Jenner is referred to as "Lovey" instead of, say, "Grandma."
3. Nursery rhymes include Pharrell's "Happy," and "Old MacDonald," as interpreted by Annie Leibovitz.
4. Kim uses Kanye's empty house for clothing storage, so Mommy has a "walk-in house" where Nori can play dress-up, rather than just a regular old closet.
5.  While her diapers are presumably Prada Pampers, North's fashion credits for the shoot include: Dolce & Gabbana and Kim's carefully placed hand wearing the 15-carat ring.
6. Her home movies include a Kanye-produced stop-motion video that was edited "to make it appear as if she's break-dancing."
7. Candid baby photos include this: "I take pictures of her all the time and dress her up," says Kim. "I put Kanye's big chains around her, and I put a little Louis bag and some Jordans, and I was like, 'What up, Daddy?'"
8.  Based on this shot from the spread, her Lacanian mirror stage will unfurl in front of an iPhone while Mommy takes a selfie.
Judging by the first year of North West's life, she'll land her own Vogue cover by the time she enters her terrible twos.