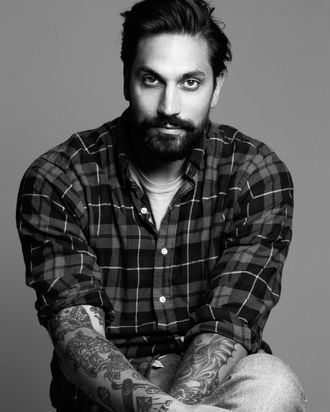 Photo: Courtesy of Byredo
When the Cut did a roundup of the Hottest Men in Perfume a few months ago, readers were quick to notice that Ben Gorham, the handsome creator of Byredo, was conspicuously missing. "Where is Ben Gorham?" they asked. So when Gorham came to New York a few weeks ago to launch Byredo's newest scent, Flowerhead, the Cut took the opportunity to ask him about smelling his scents in airports, his upcoming leather accessories line, and the two scents that break his heart.
Flowerhead is very floral, it's a bit of a departure for you.
Flowerhead began five or six years ago when I attended the Indian wedding of a cousin of mine. She had no brothers. I held off doing florals for a long time because it was expected. Also, because most florals are old-fashioned and not modern and smell like grandma. But Flowerhead is about the wreath of flowers placed over the Indian bride's neck, so it's rose, wild sambac jasmine, and tuberose, done in a modern way.
Do you smell your fragrances on the street in New York?
Yes, sometimes. Although the first time I smelled a fragrance of mine was at an airport. And it kind of freaked me out! I denied it for the first five minutes and then I was kind of like, "Are you stalking me?"
Did you confront the person?
Oh, no. That would have been weird. Then you would be like, "Oh, thanks." But I do get a lot of requests from people asking, "Smell me." I get it from men, old women, journalists. I guess they just want me to smell a particular scent on them. And then it's like, [gesturing to the neck] or [miming leaning in].
How do you imagine your scents manifesting?
I never imagine my scent on a person. There's this one perfumer and he will go, "Sniff" and be able to tell a story about a woman from when she enters the room, based upon what she's wearing. Or the perfumers that keep blank bottles in the fridge. Don't fall for that one.
Tell me about your upcoming luggage line.
It's a project that I've been working on for a while. It's been emotions of curiosity and insecurity. It's been a year and a half in the making and should launch this fall.
I mean … it's not super innovative. Working on it was interesting because perfume is invisible but accessory is all about touch. It was a learning process from scratch, learning about leather and how to make the bags. But I'm more at ease doing this than when I started out doing fragrance. This stuff has a face value. Fragrance needs engagement, which may be harder or easier.
I want to create something for women that isn't about a moment. I wanted something that was well-made, that lasts, and that people could carry and invest in longer than a season or month or date. That's the ambition. It needs to be relevant and also work, so it's pulling me a bit in two different directions.
What's your best-selling fragrance?
Gypsy Water, probably partially because of the name. The name may be even better than the fragrance. Bal D'Afrique also has done well, because of its commercial note and edible aspect. You can smell it time and time again, and still get that hungry feeling. But out of the 20, there are 13 scents that perform pretty much the same.
Do you wear scents day-to-day?
I don't wear fragrance. I make them and then on to the next. I smell stuff every day. I didn't even wear fragrance till I was much older. Even then, it wasn't about the smell, it was about the idea of smell taking you to places. Because of the way that I lived and grew up, I'm a bit nostalgic. But it's interesting how scent can be associated to memory. But there are two fragrances that break my heart: Palermo and Encens Chembur. I even changed the name on them at one point; it didn't make a difference.