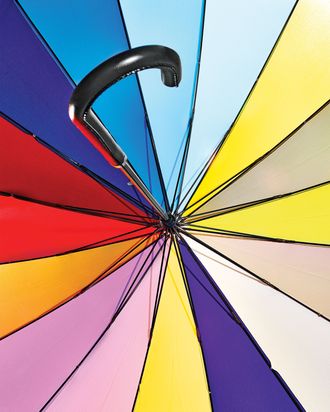 Photo: Bobby Doherty/New York Magazine
The goal: Weed through the increasingly high-tech umbrellas out there and find one that stands apart. The local umbrella-makers, retailers, and meteorologists we consulted collectively warned against today's ever-more-compact models: Though they may sprout with the push of a button and retract to fit in your pocket, it turns out each collapsible joint is a point of vulnerability in a sideways downpour.
The verdict: Many soggy tests later, we landed on Fulton's Soho Rainbow ($55 at Ame Ame, 17 W. 29th St., nr. Broadway; 646-867-2342), a traditional stick umbrella with a manual open-close, 33-inch steel shaft, and three-foot wingspan (coverage for both you and a buddy). While others typically have 6 or 8 wind-dispersing panels, the London-designed Rainbow features 16, helping ensure the canopy won't flip. Thanks to its relatively light one-pound weight and snug faux-leather grip, it's also easy to wield—and rest on your wrist for the subway commute.