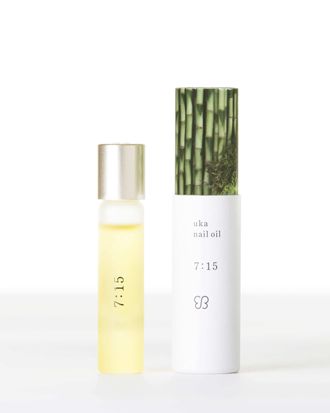 In her native Japan, Kiho Watanabe is like the OG or Run-D.M.C. of nail care. She's legendary in Japan for popularizing nail care, and responsible for the Uka Nail Oil in the handbag of every chic Japanese citizen from Ginza to Azabu. She's done nail oil collaborations with everyone from Colette Paris to Bathing Ape.
Contained inside a small roller ball that always dispenses the perfect amount, Uka Nail Oil is a luxurious argan oil intended to nourish, protect, and soothe your cuticles, but smells so good that Watanabe designed it so you can also use it over your hands, on your lips, or to tame flyaways. There are five different Nail Oils, each one named and scented for the time of day it's intended to be used. My favorite is the 7:15 a.m., an invigorating but relaxingly grounded scent of Hinoki wood, sandalwood, and bright yuzu. There's also 13:00, 18:30, 24:45, and the "basic," which is meant to be used anytime. Outside of Tokyo, Uka Nail Oils are practically impossible to find, but the e-commerce site Peach and Lily, which curates the best beauty buys from Asia, has them available for sale.
Uka Nail Oil, $36 at PeachandLily.com.