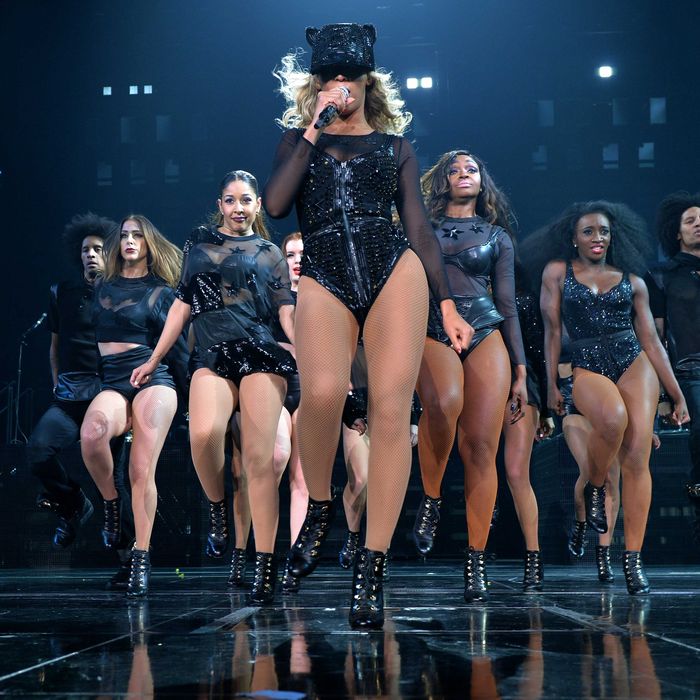 Photo: Larry Busacca/PW/WireImage
We all want to dance like Beyoncé. We all want to look like Beyoncé. We all want to be Beyoncé. But truthfully, for most of us, the Vixen Workout is the closest we will ever come.
Before the class, which is billed as "intense hip hop cardio in a fun club atmosphere where women can let loose," I'd received a befuddling introductory email that suggested I wear wedge sneakers "to intensify the workout and help me feel a bit sexier." I went to the class fully expecting it to be along the lines of a "Sisterhood of the Traveling Stripper-Pole." But I was curious.
When I arrived late to my first session at the midtown studio (the workout is also offered in Queens and Miami), the class was already beginning its affirmations in a raucous club atmosphere with dim lighting. It was a far cry from "Drop your hand to heart center."
"Ay, papi!" the Vixen Army shouted."Dammmmmnnn, I look good tonight." Half the class was indeed in wedge sneakers.
Janet Jones, the original founder, known as Twerkmaster, or Bawse, was teaching a master class, and she began by demonstrating the choreography. There were moves like the Hungry — with arms akimbo and elbows forward — the Kitten, when you stick your butt out to create a C-curve, a move that also has a 90 percent success rate of hailing you a cab. The Ay, Papi! is like the Bend and Snap, except you insert a hair-flip while moving your hands up slowly along your legs.
After whispering a few "Ay, papi"s, my real workout began. Jones led us in 30 minutes of straight hip-hop cardio, reassuring people not to worry about the steps and to "feel free to have your own Beyoncé moment in the corner." We surfborted. We swirled. We booty-clapped. We thunder-shook. We popped it. We locked it. We booty-traveled. We twerked. (I use "we" loosely, as others twerked while I watched enviously.) When the class energy lagged a bit after a particularly challenging round of choreography to "Drunk in Love," Janet shouted: "You are not tired! Rihanna and J.Lo and Beyoncé just had babies!" And this invigorated the class to twerk in double-time. The dance spirit-animals of Ciara and Britney Spears were also thrown around, but despite all the twerking around us, Miley Cyrus was never mentioned.
Despite only being able to attempt some semblance of a twerk, I, along with the rest of the class, was dripping in sweat (like SoulCycle–level sweat) from all the heavy footwork. Then a ten-minute live track of Beyoncé's Mrs. Carter concert played, complete with crowd applause, and this is when the class fully began to buzz like the Bey Hive. "That applause is for you!" Jones shouted, urging us to pose with arms out and perfect our best Hungry pose during the clapping. An abs, squats, and plank interlude happened next, and then it was over. Later, the class's website would inform me that I'd burned between 400 and 600 calories as a beginner Vixen. The mirrors were fogged up from perspiration. Janet huddled the army for a group picture, and then many women posed triumphantly for sweaty selfies, which they hashtagged.
"My clientele isn't gym rats," Jones, a former professional dancer, explained to me after class. "I hope that my class is like an escape." The workout came to New York after mass popularity in Miami, and Jones hopes to expand it more here. As it is still beginning, the classes operate like pop-ups for now, borrowing space at dance studios. There's no fancy boutique studio with scented towels (yet) and occasionally, the classes are a tiny bit overcrowded. But no one said being Beyoncé was easy.
Learn more about the Vixen Workout here.