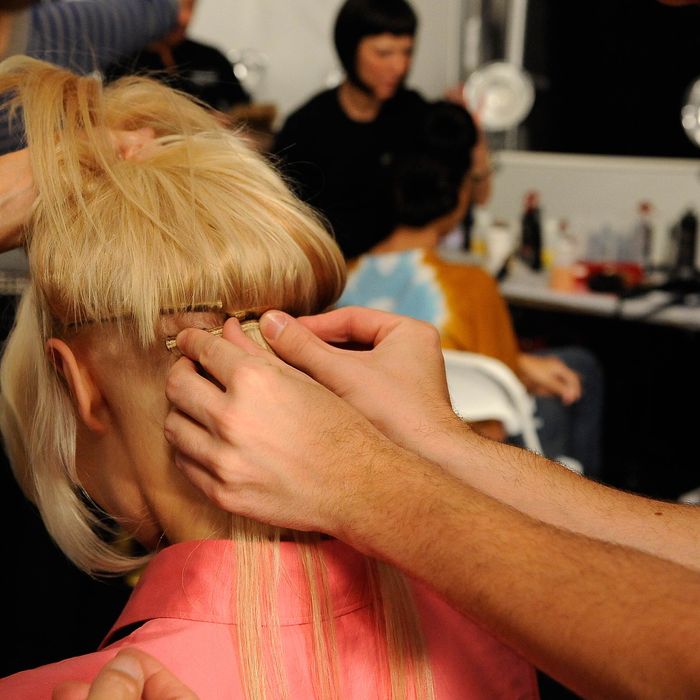 Photo: Virginia Sherwood/NBC
Take a look at most celebrities on the red carpet, and you can bet that the hair on their heads isn't all theirs. Well, maybe it's technically theirs (if you buy it, it's yours, right?) but it certainly didn't sprout out of their heads naturally.
Thanks to our celeb-obsessed culture, more women than ever are running to salons to try to replicate the look. The number of salons offering extensions has jumped 28.5 percent, according to a 2013 study by the Professional Beauty Association. And, as the popularity of extensions has exploded, so has the number of hair thefts.
Last year, $230,000 worth of hair extensions were stolen from the 35th Street Beauty Supply Store in Chicago's Bronzeville neighborhood. In St. Louis, $10,000 worth of hair was stolen from a beauty supply shop. And a few years ago, $60,000 worth was taken from a San Leandro, California, store, and $50,000 from one in Houston. People are driving cars into storefronts, skipping the money in the register, and creeping through the store to find bags of hair: It's more valuable to them than the cash.
Much of the hair you'll come across is sourced from India, and falls into two categories: virgin hair, which is completely unprocessed (no dye, no perm, no bleach), and Remy hair, which comes from a single donor, is chemically treated, and is usually colored. It's the Remy hair that thieves want to get their hands on. In order to be good quality, the cuticles must face the same direction and be the same length to avoid tangling. A pack of the stuff starts out at about $100, and a buyer can wind up paying up to a thousand for multiple packs of hair. What's more, selling stolen hair is pretty easy: Hair doesn't come with serial numbers like cell phones or luxury handbags, so it's virtually impossible to track. A thief can break in, pick up the hair, and sell it on the street, on the internet, or directly to stylists.
Indique, a company that has provided hair to Rihanna, Lady Gaga, and Jennifer Lawrence, has factories in India where company employees obtain the coveted hair from Indian temples. Indique co-founder Ericka Dotson says part of the reason for these thefts is that good quality hair is so difficult for the average person to source.
"What you'll run into are vendors who are retailing poor-quality or inferior hair," she said. "So it's very valuable, this untainted, pure, virgin, natural hair. When something is hard to obtain, theft is involved."
When entrepreneurial troublemakers raid a salon, they can rely on its owners to have vetted the product — which means they avoid the risk that comes with going through a middleman. Dotson says it's not unusual for people to be misled about the grade of hair they're actually getting.
"It's a gamble," she said. "If you were to place an order for samples from India or China, you might get a couple pieces of hair that look great, and then you're ready to order a thousand pieces. You might get a great batch of that first thousand, it might be beautiful, but then when you reorder, it could be horrible."
Hair that's not 100 percent Remy can be chemically processed to look like it is. The hair is put into a bath that disintegrates the cuticle, leaving the hair in the raw form. It's spruced up with some silicone coating, which Dotson says looks beautiful when you first purchase it, but after the second shampoo, the coating wears off and you're back to raw hair, which starts to tangle and mat.
It sort of grimly makes sense, then, that in our beauty-obsessed culture, this black market would arise. "[Hair extensions] can be an emotional purchase," Dotson mused. And with no end in sight to the long-hair trend, these thefts will probably only continue.
"People are aware of the quality of cream-of-the-crop hair," Dotson says. We guess some people just have more devious ways of getting it.