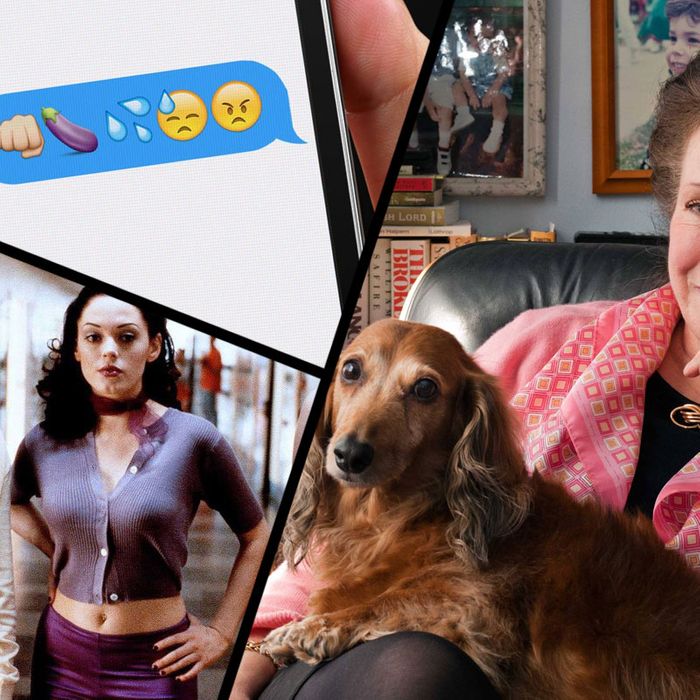 This week, the Cut tackled topics ranging from emoji sexting to Sheryl Sandberg's "Ban Bossy" campaign, with a lot in between. We caught up with the Princeton Mom, and chatted with a documentary filmmaker who specializes in teen flicks. Here's what we learned:
1. Is bossy really the sexist plague that Sheryl Sandberg makes it out to be? Ann Friedman articulates why it's frustrating to watch the Lean In movement focus on restricting language rather than expanding choices.
2. What guidelines should news outlets follow when dealing with rape and privacy on social media? Kat Stoeffel weighs in on BuzzFeed's controversial listicle, which mined tweets from victims of sexual assault.
3. What happens when you ask the Princeton Mom for dating advice? Maureen O'Connor trekked to now-author Sue Patton's Upper East Side apartment to find out.
4. Does anyone else out there rewatch Jawbreaker on a regular basis? Yes: filmmaker Charlie Lyne, who spoke to Allison Davis about his new documentary about the teen-movie genre, Beyond Clueless.
5. What benefits does a scalp facial offer? Easier styling, plus a 15-minute head massage, reports Kathleen Hou.
6. What's the deal with Juan Pablo? He's probably the worst bachelor ever, argues Allison Davis — but he's definitely made for some good television.
7. How can I sext sans text? With the Cut's helpful glossary of erotic emoji possibilities, compiled by Allison Davis and Maggie Lange.
8. What is Santigold up to these days? Her upcoming projects include a baby and a "post-apocalyptic" makeup collaboration, she told Kathleen Hou.
9. Now that nail art is over, what's the next hand-related trend? Fistfuls of jewelry styled beyond functionality. Isabel Wilkinson and Leah Rodriguez compiled the best wrist and finger accessories from fashion month.
10. Wouldn't it be great if there were a purse that could charge your phone? Kat Stoeffel evaluated the usefulness of various wearable tech devices that debuted at South by Southwest this week.