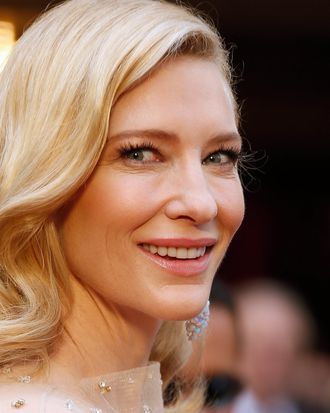 Photo: Jeff Vespa/WireImage
After her Oscar win, Cate Blanchett may have inked up her pale skin in the company of fellow Best Actress nominee Amy Adams: The day after the Oscars, Blanchett was photographed leaving the Shamrock Social Club tattoo parlor in West Hollywood wearing a bandage around her wrist, with Adams and Adams's fiancé (also bandaged) close behind.
Though Blanchett was all daring inside-jokes with Julia Roberts upon the public stage, perhaps Adams is now Blanchett's bad-girl-best-friend-du-jour among the 2014 Academy Award female acting nominees. The homegirl you take to get commemorative tattoos is the homegirl who is really your homegirl.