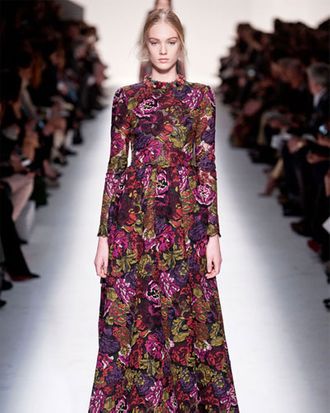 Fashion month ended with a bang, the last three days of which were filled with notable looks from heavy hitters such as Chanel, Louis Vuitton, Valentino, Alexander McQueen and so many more. Below, our favorite looks to close out fashion month.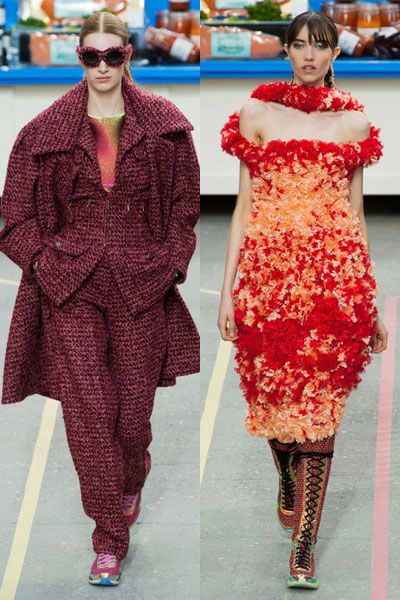 1. At Chanel, Karl Lagerfeld offered up an interpretation of the three-piece suit: a zippered, corseted tweed jacket with matching baggy pants, topped with an oversize coat of the same fabric. Topping off the look were thick nubby sunglasses, in raspberry tweed, of course. And what better to wear to the supermarket than a bright bouquet seemingly right out of the produce section? Another brilliant crimson and peach evening dress had the texture of a cabbage flower that dramatically wrapped around the shoulders like a feather boa. And, to finish off the idea of shopping in a supermarket, it was paired with knee-high sneakers.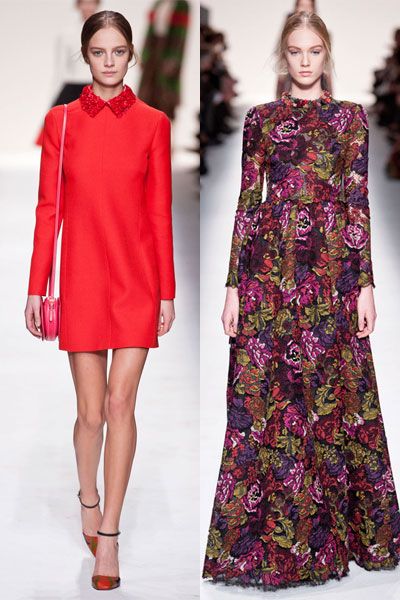 2. While the romantic gowns are typical at Valentino, this season, peppy, punchy '60s looks oozed excitement. We like the primness of the long sleeve and textured tonal collar of this vermillion minidress.  What we couldn't help but notice: legs! On the gown front, there were flowers rendered in jewel-hued embroidered lace.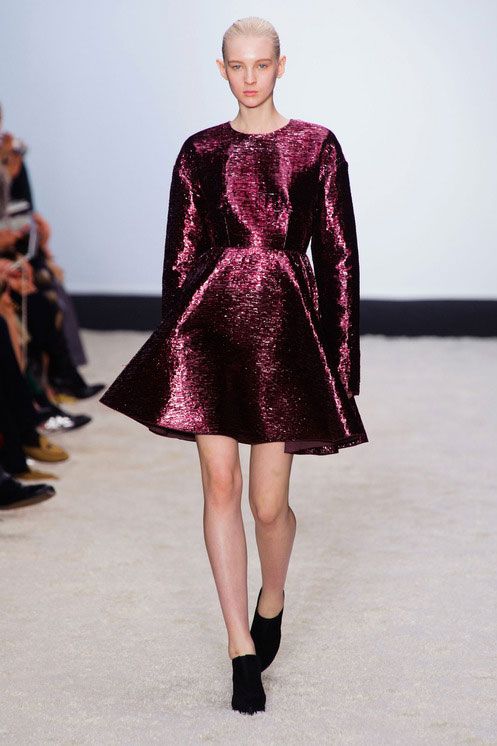 3. Giambattista Valli was a cool parade of feminine silhouettes made with origamilike shapes in flush pinks and black and whites. But our favorites were the closing looks that featured a rich magenta woven lamé that catches light but still seems dark and moody enough for fall.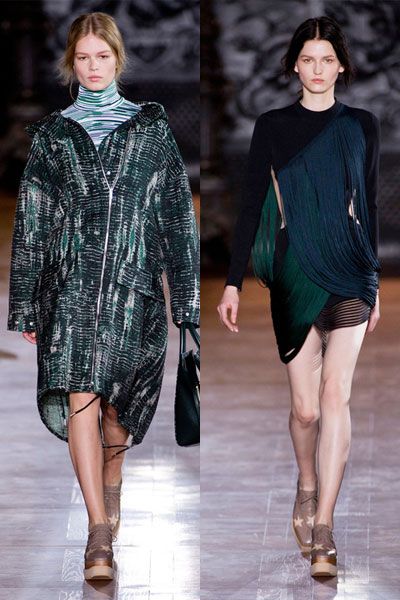 4. Never one to ignore her cocktail clientele, Stella McCartney served up some slinky numbers of multicolored fringe that draped around the models' bodies. This was one of those looks you love to see walking down the runway, or shimmying with reckless abandon on a dance floor. 
5. At Sacai, Chitose Abe presented knockout outerwear, both covetable and memorable for the season. Blending a moto-style leather jacket with contrasting ivory Mongolian lamb, this one was an easy favorite.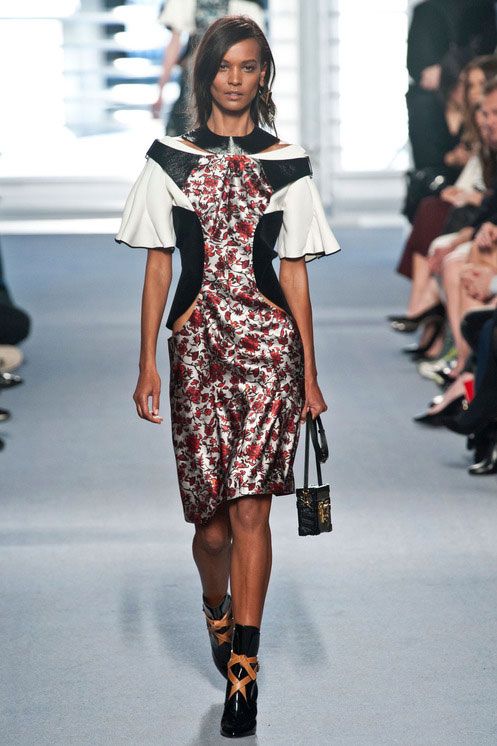 6. Nicolas Ghesquière's much-anticipated first collection for Louis Vuitton featured many great separates and accessories, but this one dress stood out. A dress seemingly in floral wallpaper print was held onto the body by leather pieced around the neck and shoulders. The inset corsetry (leaving a sexy splice of torso exposed) and fluted sleeves were more modern than the collection's '70s reference.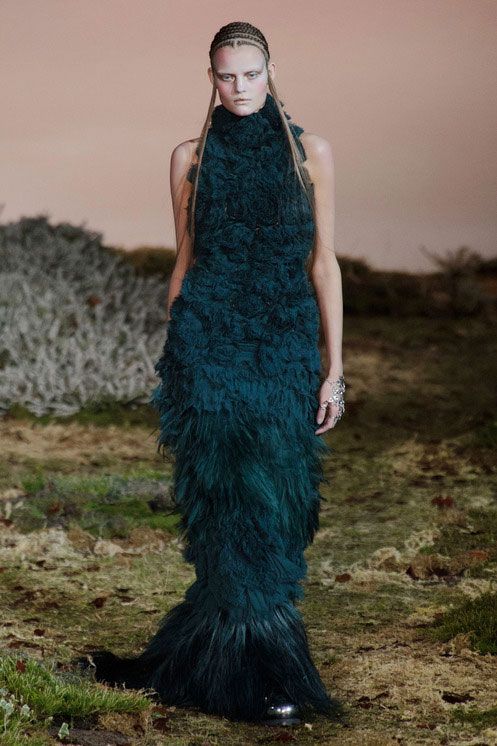 7. Sara Burton's collection for Alexander McQueen moved through a wild, mossy lonely landscape inspired by the moorlands of Wuthering Heights. This dress, with its emerald frayed flocking and emerald fur underskirt, seemed to blend indestinguishably with the mossy runway.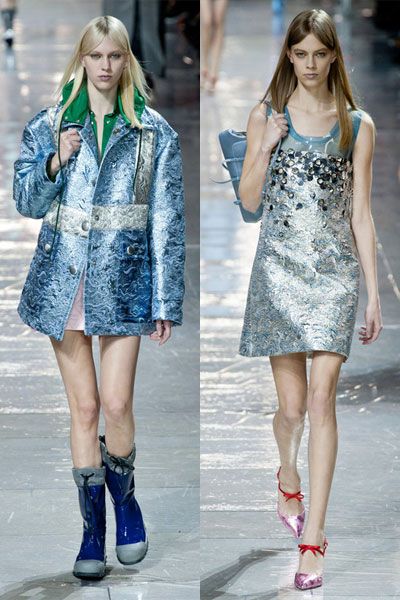 8. If Prada is for the grown-up lady, Miuccia Prada's Miu Miu is for the girl inside of her. This was especially true of this last collection, which was heavy on quilted jackets filled with colors and touches that seemed to reminisce on an early '80s playground. The sweetness was balanced with tinted PVC miniskirts, panels and windows that added a touch of edge to the nostalgic Rainbow Brite vibe.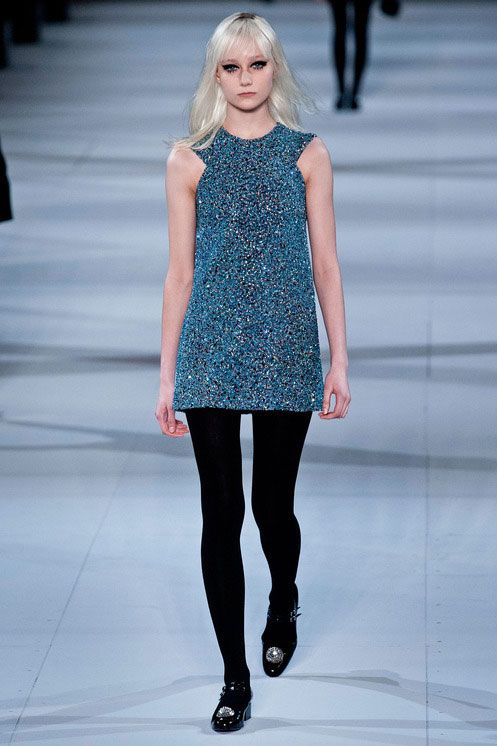 9. At Saint Laurent, decadent Mod looks went well with Twiggy-inspired lashes and liner, our favorite being a glittering blue dress with a barely there hemline and a jeweled stacked flat.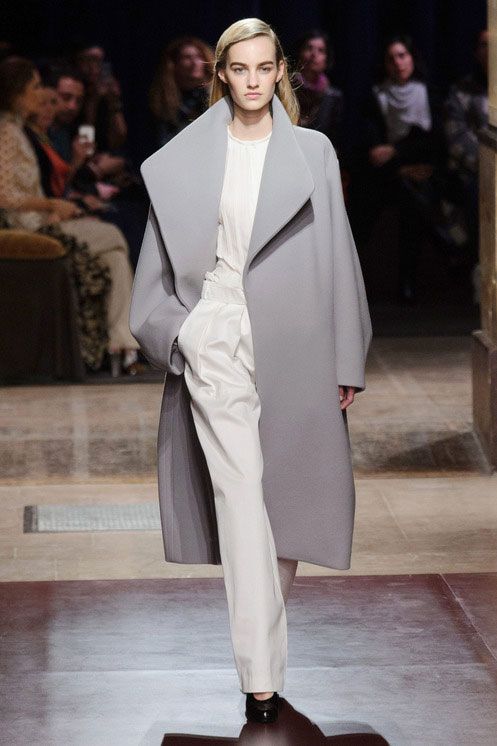 10. Hermès presented a wide range of easy, warm ready-to-wear, our favorite being the opening look. There's something peaceful about the ivory sateen trousers and a hefty wide dove gray wrap coat. It was the perfect timeless look to polish off a long and varied fashion month.