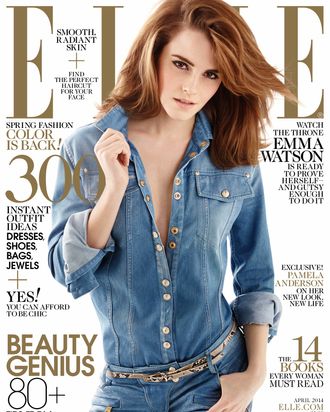 Emma Watson is Elle's April cover girl. While she looks totally great in a Balmain denim jumpsuit, Watson reveals in the interview that she'd rather not live life in other people's clothes, which is one of the reasons she attended Brown:
"I remember reading this thing that Elizabeth Taylor wrote. She had her first kiss in character. On a movie set. It really struck me. I don't know how or why, but I had this sense that if I wasn't really careful, that could be me. That my first kiss could be in somebody else's clothes. And my experiences could all belong to someone else."
Let's hope she means that in the proverbial sense, otherwise she'll have to start pulling a Hayden Panettiere and stop borrowing all those red-carpet looks.