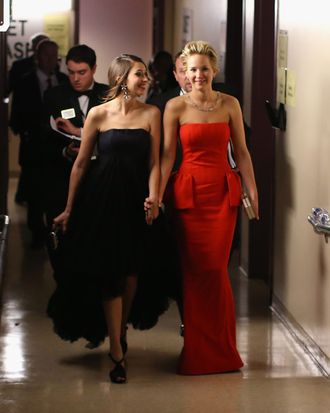 Photo: Christopher Polk/Getty Images
You might recognize Laura Simpson from her position as a pillar of support when Jennifer Lawrence lunged for her neck while tripping onto a red rug last Sunday. Simpson, the best friend of the internet's imaginary best friend, has written an essay (on MySpace) about accompanying Lawrence to the Oscars. It's great.
In summary, according to Simpson: Celebrities are truly kindly and beautiful, paparazzi are mean to you if you're not a celebrity, there is too little food and too many drinks, and Rachel Zoe tells you that you look "maj." Here are some of Simpson's encounters with famous, talented people backstage:
My date comes out after her category and we decide to watch the rest of the show in the greenroom where there is pizza. This is where the presenters and winners are hanging out and it's pretty jarring. Some guy picks up my purse that had fallen off my seat and I say "Thank you… Channing Tatum" and my dress gets caught on Jennifer Garner and we awkwardly laugh and someone tries to separate us. The lovely pregnant Kerry Washington asks me if she could have the Slim Jim in my purse. Glenn Close shows us her Oscar secret, which is a handmade corset and a dress long enough to hide her comfortable shoes. Miss J is sashaying around the room being crazy fabulous and I am one of maybe two non-famous people there. I kind of just sit there and smile creepily when someone catches me staring—shout out to Penelope Cruz… Brad Pitt smells amazing, like nothing I've ever smelled. Eventually we ask what cologne he's wearing and he tells us, "I don't wear cologne, it's just my musk I guess." I have to choose not to believe him because it would just be unfair to mankind.
Simpson says that she met Lawrence "seven years ago at an event where we both didn't know a single person. We hit it off over a mutual respect for Chandler Bing, and we've been eating pizza together ever since." Is that how you met your best friend? Is it how we all met our best friends?