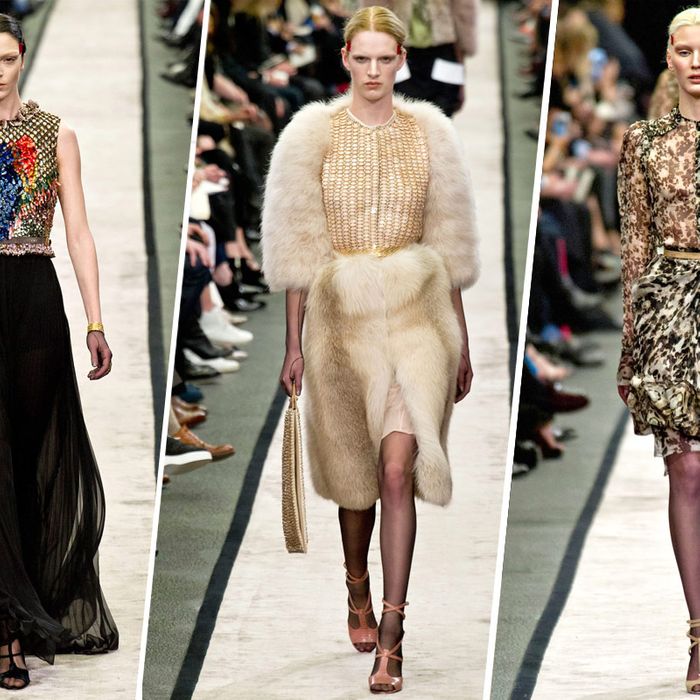 The models at last night's Givenchy show moved through a warehouse on an endless carpeted runway, walking so briskly, one on the heels of another, that it was a bit like trying to keep up with a conveyor belt spewing out fashion bonbons faster than they could be consumed. As a matter of pure logistics, designer Riccardo Tisci had narrowed his runway so that the audience sat a mere ten feet away from the clothes as they sprinted by under white-hot overhead lighting. Clearly, Tisci wanted his audience to see his ideas and get a clear look at his vision, but not obsess over the details.
Ethereal, ruffled, and multilayered dresses in animal prints galloped past and were gone. Was that some sort of leather strap stretched across the back? Beautifully tailored blazers and high-waist trousers whizzed by and those same mysterious, wide bands showed up again on the back of the jackets and along the hips of the pants. Ah, yes! They were indeed straps.

Whoosh! There went an extraordinary coat of myriad textures — downy feathers and delicate fur coming together in a single garment. Black velvet trousers and cropped jackets ran by in a zippy take on a tuxedo. Pleated skirts topped with sweaters slung around the waist were held fast thanks to the reappearance of those wide, almost-industrial stretchy straps.

After multiple viewings of similar themes, the eye began to adjust and the prints and layers and straps looked, if not pretty, then striking. But just before being wholly seduced by Tisci's whirlwind of a come-on, one couldn't help but wonder: How does a woman get that sweater off her hips if she happens to be out and about when she gets a sudden chill? Does she shimmy it down her tush and step out of it on a street corner? Never mind, on to the next look.

Unfortunately, Tisci, like so many designers for fall 2014, used a peculiar shade of institutional mint green as a flourish on his earth-toned dresses and as the centerpiece of much of his tailoring. It has yet to become more pleasing with repetition. The collection benefits when Tisci works in a darker, moodier palette. The shades of chocolate brown, black, umber, and gold cast the frocks in a luxurious, mysterious  glow.

The final garments in the collection, the most dramatic ones, felt like mixed-media art projects — a black lace gown, topped with a kind of fur breastplate; a fitted tank covered in a pastiche of paillettes and crystals in the front and little more than sheer netting in the back. Paired with black trousers, it would make a refreshingly distinctive formal option — eveningwear that roars.
 
Barely ten minutes after tearing through the room like a tidal wave, the show ended. Tisci didn't present a collection as much as he reproduced the feeling of contemporary fashion flooding toward you faster than you can take it all in, sort it out, and understand it. The take-away — aside from his artful mix of textures, flirtatious but discomforting dresses, and unorthodox layering — seemed to be a reminder that sometimes you just have to relax, let it all wash over you in a pleasant rush, and float.