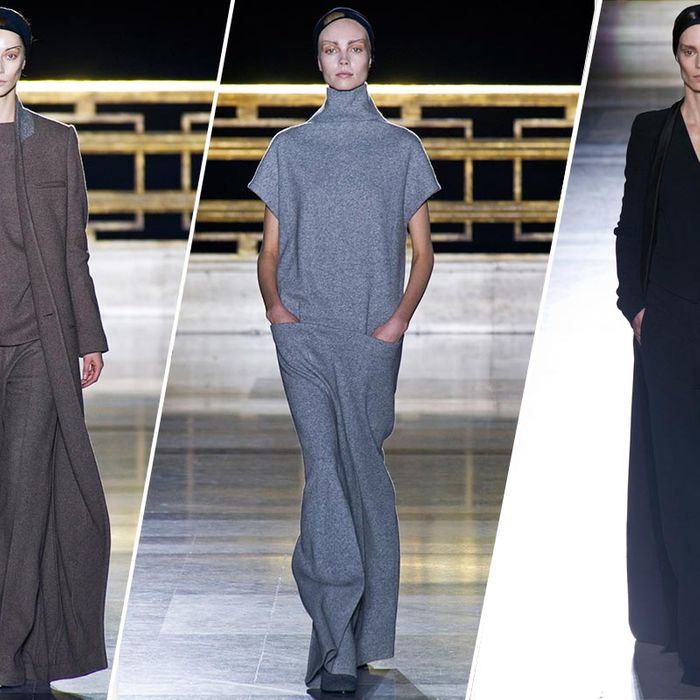 There was an era in Paris when fashion collections were shown to audiences in silence. Guests sat attentively on little golden chairs. And, in a hushed environment, models strolled out wearing the upcoming season's freshest ideas. In modern times, every now and then, a designer such as the eccentric Rei Kawakubo of Comme des Garçons will use aural austerity to help tell the story of her work. But mostly, fashion shows rely on a soundtrack of music to create an ambiance that enhances the experience of seeing the clothes.
Designer Haider Ackermann is exceptionally skilled at making music an evocative presence on his runway. In the past, for instance, he has chosen the haunting musical poetry of Leonard Cohen to great effect. But when Ackermann unveiled his fall 2014 collection in the bowels of the Théâtre National de Chaillot, his soundtrack consisted of the gentle strumming of a violin and an increasingly insistent percussive pounding that echoed like a heartbeat.
The marriage of music with Ackermann's sober color palette and languid silhouettes speaks to the emotions that drive our perceptions of beauty, that determine how we present ourselves, and that inform our interactions. The music helps the audience feel the fashion as well as see it.

Ackermann's fall collection exploited the colors of the city in winter: the gray of over-salted sidewalks, the brown of bare branches, and the silvery green of those hardy perennials that must hang tough until spring.

He focused on trousers — full and sweeping flannel, tight and sexy reptile-patterned, soft and comfortable knit — and the sharp jackets and protective bombers that accompanied them. His overcoats swept the floor — not exactly practical for a city's slush-soaked streets, but certainly romantic. His sweaters had high funnel collars. And when he did offer up a dress, it was often constructed of multiple textures in a single color and flowed across the body like a confident stroke from a paintbrush.

For all of the flow in his tailoring and the sensuality in his draping, the collection exuded both austerity and reserve. Ackermann's models wore their hair slicked back and secured by a single, utilitarian headband, and moved at an unhurried pace even as the cadence of his soundtrack grew more frantic. The contrast made the clothes that much more beautiful. They were the quiet in the storm — an anchor of serenity in a hectic, heart-pounding day.