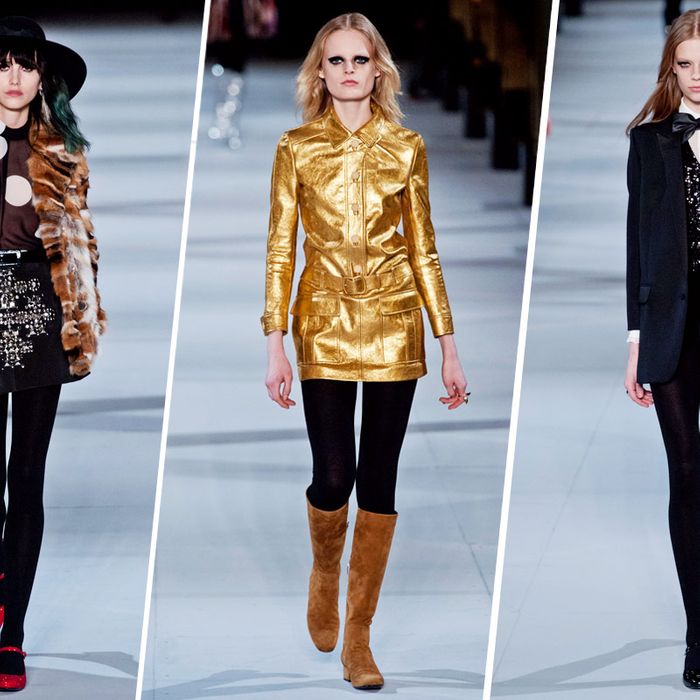 A lot of design houses chase after youth, attracted to its beauty, freedom, and daring. In that regard, Saint Laurent is not unusual. But in its hunt for fresh-faced vigor, Saint Laurent —  as led by creative director Hedi Slimane — seems stuck on youth's pitfalls rather than its pleasures. Slimane's collections brim with teenage brooding, unattractive narcissism, and immature sexuality. One sometimes has the feeling that his models, with their style and carriage, could get a man arrested.
For his fall 2014 presentation, in an old Paris marketplace built in the 1800s and recently refurbished into an event space, Slimane designed a floor-level runway — each side flanked by 13 mirrored rods that rose from the ground like an automated honor guard as the models began their promenade. The show was lighter on Lolita-esque sexuality. Still, there was something discomforting about the stream of looks on Slimane's runway Monday night. Youth was underscored and along with it, disenchantment and fatigue at a level that would make Willy Loman seem like an optimist. The models were too cool for joy. With their heavy makeup, bedraggled hair, and unsophisticated demeanors, they came across as smug, grumpy, and dour.
The music for Slimane's show was a song called "Had Ten Dollaz" by Cherry Glazerr, a Los Angeles–based band and one whose two young female members bear little resemblance to the tortured souls on the Saint Laurent runway. But one has the sense that Slimane envisions dressing women like singer and guitarist Clementine Creevy.
For fall, he has revived the spirit of Saint Laurent, which was at its best in the 1960s and '70s, when it reflected the late fashion giant's passion for the energy of the street and for contemporary culture. Slimane's short leopard coats, glittering tartan miniskirts, sparkly boots, gold mini-shirtdresses, and shrunken suits speak of that era, when youth ruled and freedom —  or at least the sense of it —  was everyone's for the taking.
These are not sweet clothes or chic ones. They have an attractive edge and a free-spirited attitude that gives them the same kind of energy that reverberates from a rock band —  that feeling of living at full throttle, grasping at the impossible, and leaping without a net. The clothes are alive.
In designing this collection, Slimane celebrates the work of artist John Baldessari. The show invitation was a thick notebook filled with black-and-white images of his work. And on the runway, there were three twinkling Baldessari couture mini-dresses that will be created in limited editions of ten. Another glittering dress, covered in images of a handgun, made one think of Baldessari's 1984 photo montage Kiss/Panic, which features a close-up of lips surrounded by images of guns. Without that rather esoteric reference, of course, the dress is a highly charged provocation at a time of widespread, indiscriminate gun violence. But, surely Slimane knew that when he focused on it among many other choices.
Baldessari, a contemporary artist who works in a variety of media, favors repurposing existing images for his own ends. He is a fitting complement to a designer whose task is to usher a respected design house, with its venerable aesthetic, into the future.
The idea of taking an established doctrine out of context to give it new meaning is a powerful one within fashion, an industry that spends a significant amount of time thumbing through history books for inspiration. Slimane took a host of notions associated with Saint Laurent —  from peacoats and leopard prints, strong-shouldered jackets, and the famed "le smoking" — and dipped them into a fountain of youth. His hemlines barely reached mid-thigh. The tailoring was sharp but the cut was slim. If a neckline was low-cut, it practically plunged. If a garment was sexy, it was meant to be a little tawdry — a thumbing of the nose at the Establishment.
It was easy enough to like the clothes in this collection and connect to their spirit. Slimane is working with an incomparable archive. But admire them? The clothes read like Saint Laurent templates altered to fit a modern-day sensibility. But they had not been transformed. They called to mind fantastic vintage-store finds that had been dry-cleaned, refitted, and restyled.
Baldessari's art makes viewers look at familiar words and images in new ways. He deepens our understanding of what might at first glimpse seem obvious. Slimane is neither comparing himself to the artist, nor aspiring to emulate him. But in bringing him into the conversation, Slimane forces the question: What new knowledge is he bringing to Saint Laurent? What new vision?
So far, it has only been the sight of privileged, teenage angst.