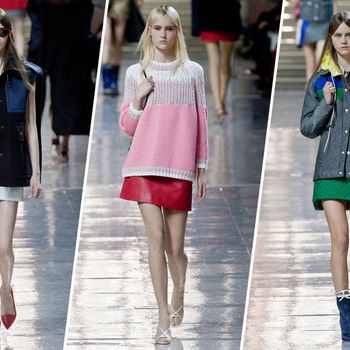 When the time came for the fall 2014 Miu Miu presentation on Wednesday afternoon, the countdown to the end of Paris fashion week was well underway: After dozens of shows, a platoon of bruising security guards, and one too many firetrap locations, members of the roving fashion community were restless.
But gently appeasing their impatience as they waited for the show to begin was the sight of actress Lupita Nyong'o, fresh off her Oscar win, who sat in the front row dressed in a burgundy shirt with a jeweled collar and a blush-colored skirt. Nyong'o, who also stars in the brand's advertising, was practically aglow.
The arrival of a second Oscar winner, Jared Leto, was another fine distraction, particularly since he had loosed his sun-kissed, blond-streaked, caramel-colored tresses for the occasion.
But after a few moments, the camera flashes abated and the Oscar winners were settled in their seats. Everyone was staring off into the middle distance wondering about the hold up when Rihanna, this season's celebrity mascot, finally arrived, deeply, profoundly late — as has been her ritual at the half-dozen or so shows she has attended. The bob was salon-perfect. The sunglasses were in place. The shearling was so Crayola-crazy it was stunning. But, Lord, someone needs to buy that woman a watch.
Rihanna's entrance was like a starting bell, and moments after she slid into her seat, the first model picked her way down from a winding staircase at the top of a runway flanked by metal scaffolding. With seating and standing room on several levels of the metal structure, the space had the look of a cell block. But the clothes had nothing to do with prison, detachment, or even alienation.
Instead, designer Miuccia Prada focused on technical sportswear – ski vests, quilted coats, sailing coats, hunting vests, anoraks, and the like. There were hand-knit sweaters in a mix of pink, whit,e and mauve. Woolen vests had contrasting epaulettes. Short skirts were stitched out of quilted nylon.
But this was not a mere sporty collection. It was more obviously luxurious and lavish, with '60s-style skirts adorned with crystals, rain slickers constructed from leather instead of the typical cotton or plastic. There was quilting that sparkled with iridescence and knits with a metallic glow. It was a collection full of color and whimsy. It was a show that left one smiling.
The informal finale to Fashion Week, however, belonged to Hermès, which presented its collection in the Palais Brongniart, which houses the Paris stock exchange. Around individual salons, cordoned off by velvet curtains, waiters passed glasses of Champagne, sun-brewed tea with vodka, and sweets. Models swanned through the rooms wearing designer Christophe Lemaire's impeccable cashmere coats cut to convey volume without sloppiness. There was a singular ivory tuxedo, a host of full skirts in shades of caramel and olive, shirt-jackets in moss, and even a sleeveless black dress composed of crocodile and Astrakhan – because if Hermès can't overindulge in luxury, which house can? The collection was elegant, rich, classic, and calm.
All season the runways have been dominated by collections that are reserved and quiet, content to speak in a language of breathtaking fabric, skilled construction, and a savvy use of technology.  The only mayhem has been in the audience, where photographers – amateur and professional – greedily feed on celebrities, fashion plates, and the demimonde.
But the runways have been almost wholly free of jaw-dropping theatrics. (A clear exception was the Dutch designer Iris van Herpen, whose debut on the official ready-to-wear calendar included three live models vacuum-wrapped in plastic. The sight was most assuredly startling, but in a supremely disconcerting way.) Instead, this was a season that belonged to craftsmen rather than showmen.
Fittingly, one of the highlights during the past week was the opening of the exhibition Dries van Noten: Inspirations at the Musée des Arts Décoratif. It is a visual dialogue, spread over two floors, that discusses the ways in which the Belgian designer has allowed everything from gardens to The Piano, from Jimi Hendrix to Christian Dior, to inspire his work. Every designer finds source material in the culture that surrounds him, but this exhibition looks at specific references and examines the way in which they are expressed over time as they churn through the imagination of one of the industry's quietest but most gifted designers.
No matter how varied the seeds of inspiration, what blossoms is always distinctly van Noten. One collection builds upon another so that even when for fall 2009 he was inspired by Francis Bacon, those beautifully printed dresses in washed-out hues still have a connection to a fall collection from 1997 that grew out of a fascination with the element gold. The link is the designer himself – his personality, his background, his ideals.
The best collections this season have been those in which the designer's voice is akin to that of van Noten: clear and honest. Those such as Haider Ackermann, Junya Watanabe, Céline's Phoebe Philo, Chitose Abe at Sacai, and Jun Takahashi of Undercover do not stray from their philosophy. They are lucky; they don't have to balance house codes not of their making with their own vision. They are not single-minded, but they have an underlying aesthetic — a passion — that doesn't waiver. For them, each new season doesn't negate the past.
Fashion is built on desire. It thrives on change. But it is only memorable when it has a soul.