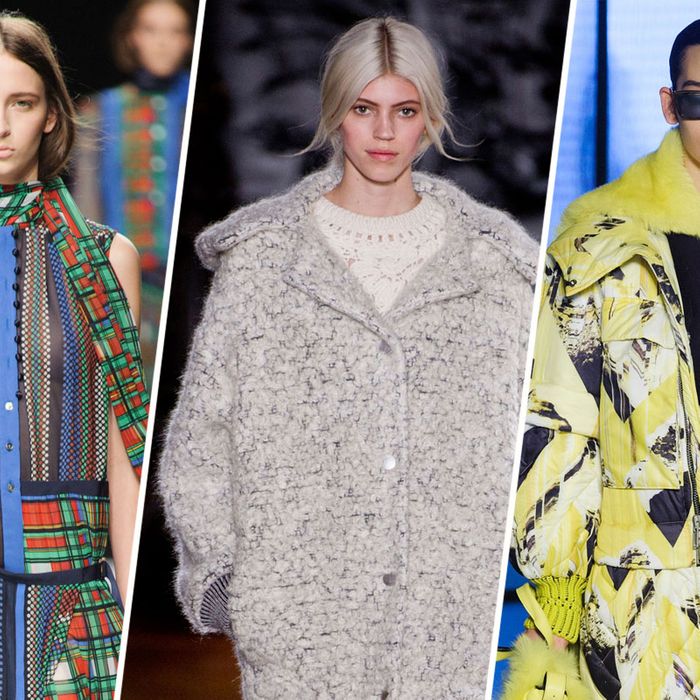 For a designer, the constant changes in fashion often feel like a wild roller-coaster ride — the slow, perilous chugging toward a summit, the moment of exhilaration at the top of the world, and the heart-stopping descent. And then the track turns into another nerve-racking, thrilling part of the journey.
The designer Chitose Abe, who launched her brand, Sacai, in 1998, has not yet crested on her frenetic fashion ride, but she is most assuredly in a period of steady, upward progression. Fall 2014 was one of her best collections yet, as she continues to explore new ways of tricking the eye with her masterful fashion gene-splicing.
Garments are never what they appear to be at first glance on Abe's runway. Filmy blouses morph into sweaters that split open in the back to reveal satiny pleats. Multiple necktie-style prints converge into a single dress that somehow seems to have a sweater attached — but not really. And a streamlined, gray flannel skirt is the conjoined twin to a knife-pleated circle one.
Abe has played this kind of hocus-pocus before, but this time, as her models marched down her forked runway at the Théâtre National de Chaillot on Monday morning, the work had greater finesse and self-assurance. And when she tried her hand at blending a leather motorcycle jacket with a wool overcoat, she made the impossible seem easy. It's quite a feat to take such cumbersome shapes (complete with belts and zippers) and weighty textures and blend them in a way that doesn't make a woman look like a vagabond with her life's possessions in tow.
Abe merges quilted bomber coats with barn jackets, parkas with fur wraps. And it all looks like the kind of outerwear that one just wants to curl up and live in. Abe has established an extremely personal vocabulary, and each season she uses it to say something more eloquent, more surprising, and more beautiful than what came before.
Stella McCartney also has her signatures. Her aesthetic is pragmatic. Her silhouettes are sporty. And everything is heated to a fine sizzle. McCartney also has a wry sense of humor, which is how one must explain the appearance of stirrup pants on her runway. Ah yes, that sportswear blip from the 1980s has returned, paired with breezy stadium coats. McCartney makes an honest effort to do right by them, putting them with chunky platform lace-ups and loafers. They're worn with good humor and a side of camp, which was underscored in McCartney's finale as models returned for their group promenade grooving to the party's soundtrack instead of glowering in spite of it.
There's always a terrific spirit at McCartney's shows — a sense of joy and good will. And her clothes for fall 2014 — with the swirling sculptural use of zippers on car coats, oversize sweater dresses, knits as easy as pajamas, and cocktail dresses covered in loops of colorful fringe — reflect that attitude.
A smile does not make a bad collection good, but it can give a lovely collection an invaluable jolt of magnetic energy. Veronique Branquinho brought moody romanticism to her collection, which she presented Monday evening to a soundtrack of a live balladeer. Often, her floor-length coats and sweeping skirts can come across as rather mournful. But for fall, she used colorful sequins to create Fair Isle patterns on her beloved long skirts, and ivory sequins mimicked the braiding of a cable-knit sweater.
Clare Waight Keller kept a refreshing breeze blowing at Chloé, with dresses in geometric prints and slouchy shorts. And at Kenzo, designers Humberto Leon and Carol Lim, inspired by the work of filmmaker David Lynch, created a strong and cohesive collection of graphically aggressive anoraks, quilted blazers, artful dresses with radio-wave prints, and sweaters with protrusions of metal widgets. It was futuristic and fun, capitalizing on a fashion moment defined by fabric innovations and pastiche.
The difference between the optimism that came alive on the runways of so many brands and the cloud that hung over one particular runway Sunday evening was stark. The John Galliano company continues to mount a presentation in the wake of its namesake's 2011 fall from grace and subsequent dismissal as its creative director. But it is a sad show to witness.
There is nothing inherently wrong with the clothes that designer Bill Gaytten dutifully sends down the runway. For fall, there were cropped trousers and waist-length jackets, some of them with colorful fur collars. There were charming knit ski caps adorned with feathers. And simple day dresses stitched from velvet.
But none of it had much personality. None of it was particularly inventive. It all just looked like a house treading water and waiting for some lightning strike of salvation. The collection's setting, on the mezzanine level of the Palais de Tokyo, was dark and sterile. American designers and editors take issue with the box-like blandness of the Lincoln Center tents, but this was akin to watching models walk around the rotunda of an insurance agency.
One feels for the members of this atelier, the staff of this house, who were caught in the wake of Galliano's undoing. They have been left on a shipwreck — in an untenable position. One hopes that this house finds its soul. Not because it owes anything to its namesake — but rather because there are jobs to salvage. The survivors should not be left adrift.