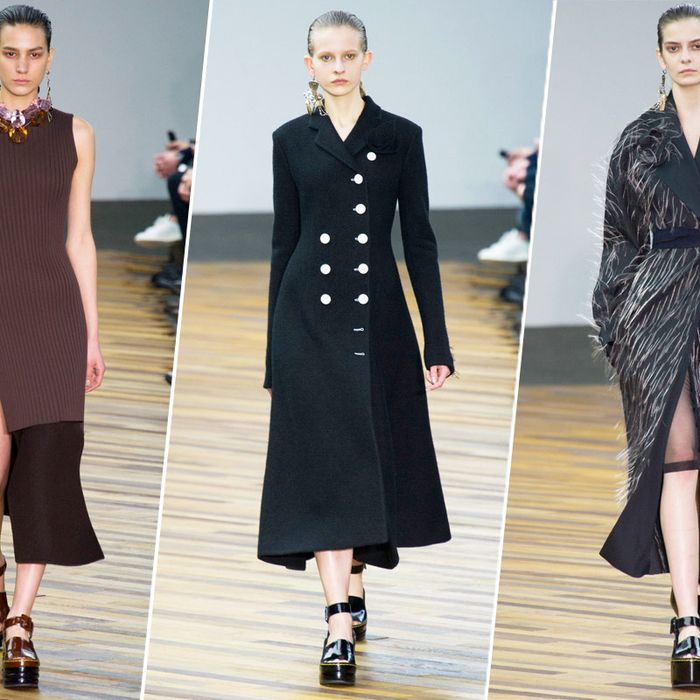 Sometimes, the best ideas emerge when designers stop over-complicating their work. Phoebe Philo proved the power of visual simplicity when she arrived at Céline in 2008 and began paring down sportswear to its most basic elements — until change could be measured in the size of a collar.
The fall 2014 collection that Philo put on the runway Sunday afternoon was not as austere as some of those early ones, but it benefited from the art of refusal.
Philo does not weigh her dresses down with excessive embellishments. She doesn't burden coats and jackets with lacing and trussing. She refrains from complicating women's work lives with unforgiving tailoring and uncomfortable shoes.
Instead, she teases the eye with a few rock-candy bracelets, judiciously bejeweled dresses, and delicate eyelash fringe that waves gently from the seams of coats. Her trousers are cut wide and sit high on the waist, but slightly away from it. Her coats are long and lean and often have the ease of a well-tailored bathrobe. She focuses on easy, ribbed knitwear in the form of skinny trousers that flare at the ankles and long sweaters whose sleeves are stretched out over the fingers, because no one likes a skimpy sweater.
And her shoes are shiny sandals with wide straps atop thick, lug soles.
The entire collection exudes straightforward confidence without the burdens of bravado or the distractions of elaborate inspiration. There was nothing showy about the presentation. The collection stood bold, relevant, and distinctive all on its own. It did not have to hide behind production tricks.
While designers often use esoteric inspiration to great effect, taking their audiences on soaring flights of imagination, sometimes – if they are not careful — it's the inspiration that drives their collection into the weeds. Such was the case with Jean-Paul Gaultier's work for fall 2014, which he presented Saturday night under the luminescent dome of France's Communist Party headquarters, a modernist building designed by architect Oscar Niemeyer.
Gaultier's theme was "British Galaxy Airways." And the collection was an avalanche of olive flight suits, horse hair hats standing in for space helmets, punk references (complete with child models in Mohawks), and a nod to the British monarchy with slashed tartan skirts over crinolines and models in crowns promenading through the crowd to "God Save the Queen."
While the collection included countless beautifully cut jackets and other keen tailoring, the clothes were mostly lost in a heap of costuming, colliding ideas, and a distracted design aesthetic that seems disengaged from the reality of how most women want or need to dress. The collection was pure, concentrated Gaultier, but it also felt like something that had been freeze-dried a decade ago and reconstituted. (His space fantasy was more Star Trek than Gravity.) How do Gaultier's house codes speak to 2014? That is the unanswered question.
Gaultier was once a leader in celebrating diversity on his runway. He was an early advocate of casting his runway shows from the street rather than the modeling agencies. But even in that regard, he has fallen behind.
Gaultier clamors for the most extreme examples of humanity. Instead of assembling a group of men and women whose looks bring reality onto the catwalk, he curates a kind of Carnival sideshow. His runway is a specimen jar of genetic upheaval, quirks, fetishes, and eccentricities – all styled to be as provocative as possible.
In the course of highlighting differences, Gaultier aims to celebrate them. But after all these years, part of the goal should also be to normalize them, too. Not just make folks stare.