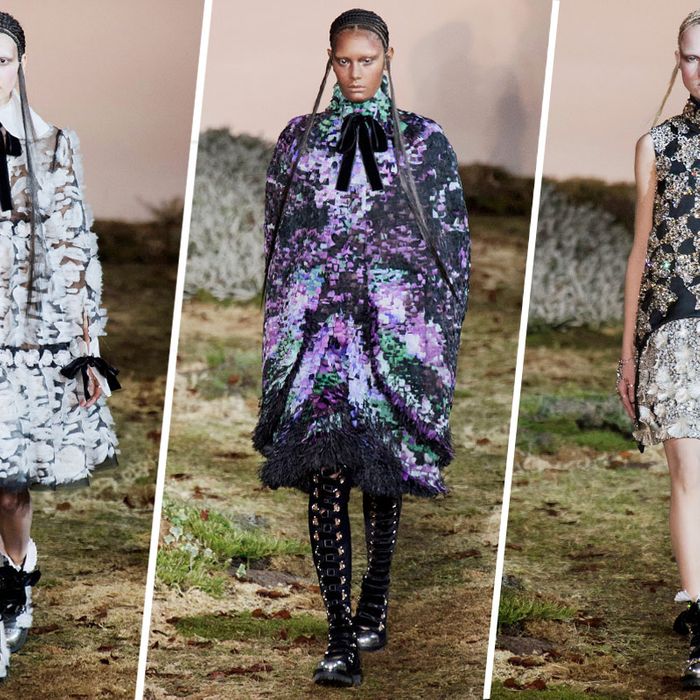 Both Alexander McQueen and Valentino are fine examples of fashion houses that have gently and respectfully separated themselves from their founders — and their very personal aesthetics — and moved on to claim brand identities that stand on their own. At Valentino, that evolution happened some time ago. At McQueen, it has been more recent. But as other companies, from Saint Laurent to Vionnet, struggle along that same journey, it is worth acknowledging and admiring two successes.
At Valentino, creative directors Pierpaolo Piccioli and Maria Grazia Chiuri led the transformation, establishing a point of view that is less ethereal and more grounded than what once defined the house. Their style is extravagant in its use of lush fabrics and embellishment but reserved in its display of skin.
For their fall collection, which they presented Tuesday afternoon under a tent in the Tuileries Gardens, they dabbled in folkloric touches, such as bird embroidery and appliqué on woolen capes. They joyfully embraced an almost pop-art collage sensibility with geometric compositions on full-length coats and skirts. And they made elegant use of butterfly imagery in beadwork on tulle gowns.
The designers were inspired, in part, by unconventional women and Roman culture in the 1960s and '70s, and their work has the emotional exuberance that one typically associates with southern Italy. It is a distinguishing characteristic of their vision and one that has given the brand a second life.
They have moved Valentino away from its spun-sugar confections of the past toward something that is stronger, more powerful, but no less beautiful. And the house's namesake — retired since 2007 — sat in the front row, cheering them on.
At Alexander McQueen later Tuesday night, designer Sarah Burton was also enamored of the darker side of beauty. She set her show against the backdrop of a woody landscape overgrown with moss, crisscrossed by downed tree limbs, and with a hauntingly stark horizon the color of evening mist.
Her models emerged from that desiccated forest in white, flat-soled work boots trimmed in fur pompoms and organza. They wore loose-fitting dresses in romantic white cotton, chocolate-colored velvet, as well as deep purple. There were black trousers and jackets swirled with silver. Dresses with three-dimensional floral embellishments gave an observer vertigo. Swaddling furs with enormous hoods enveloped models. And sculptural dresses surrounded the body like a perfectly trimmed topiary.
The collection spoke of the house's history of drama and emotion. But Burton has gradually teased out the sense of romance — always there, but often overwhelmed by more brutal concerns — so that it takes the lead. Her silhouettes were less constricting and not as aggressive as they once were under its founder, who died in 2010. Her presentations are not as personal, not as transporting.
But where the house once looked upon women from a distance as objects of beauty, power, ruthlessness, and reverence, it now sees them as wholly human. That vision isn't as dramatic, but it is far more complicated.