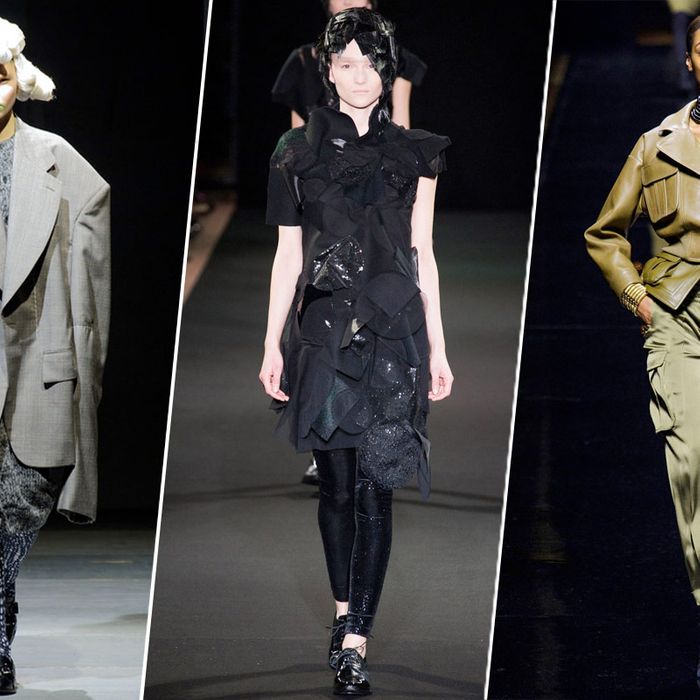 Neither Junya Watanabe nor Comme des Garçons' Rei Kawakubo rifle through history or tweak classic silhouettes. Instead, their magic lies in their ability to invent new ones — or at least aspire to. They may find inspiration in contemporary art, music, or cultural debate, but they aim to add a new point of view, not merely riff on what has already been offered. The results are often bewildering and unnerving. Sometimes, particularly with Comme des Garçons, it can take days of mulling before you're even sure you liked a collection, let alone why or why not.
Good — or even merely interesting — fashion doesn't require that clothes serve as a Rorschach test. Olivier Rousteing's collection for Balmain, for instance, was a clear declaration of his vision for fall 2014, free from angsty questioning. He focused on strong shapes, the technical aptitude of his atelier, and the tribal energy of weaving and coloration, as well as dramatic waist treatments and cargo pants. It seems to be all part of a determined shift away from the rock-star sensibility that brought the brand new life, but had been growing stale. And this season, that effort took him to an aesthetic that is rooted in earthiness — as might be found in a five-star resort — and an exploration of non-Western culture.

Nonetheless, in this era dominated by absolutism, instantaneous judgments, and intractable global disagreements, a little willful uncertainty in fashion feels like a relief. What a pleasure to be ambivalent about a creative work at a time when everyone is sending their approval or disapproval out into the universe as fast as their thumbs can type.

Yet it only took an hour or so before settling on full-blown appreciation for the fall 2014 collection that Watanabe put on the runway at the Lycée Henri IV, an elegant secondary school in Paris's Latin Quarter. Guests climbed up the stone and wooden staircase, one that over time slopes dizzyingly to the right, to take their seats in a narrow hall of a library that was all carved wood and history. The first model emerged dressed in a patchwork of black with her head swaddled by what might best be described as a kind of cloche hat whose roughness resembled a bird's nest. She moved slowly, slowly, slowly down the runway. Her pace was so glacial, in fact, that another model emerged behind her and soon whizzed past. The juxtaposition of speed and languor made one think of how we go about our daily lives. Everything moves so quickly but ultimately, both models covered the same amount of ground. They ended up at the same destination. What was gained or lost through velocity?

Watanabe's collection, shown to a soundtrack of a piano solo, was a study in texture, light, and shape. It was a black collection filled with tunics and jackets, skirts and leggings constructed from collages of woven fabrics, leather, metallic, and a host of unidentifiable materials that made the models look like flitting blackbirds, untethered to any particular flock, geography, or sensibility. Watanabe used patchwork as a way of hinting at vast possibilities.

The work called to mind the Wallace Stevens poem, "Thirteen Ways of Looking at a Blackbird," which reads, in part:
"I do not know which to prefer,   
The beauty of inflections   
Or the beauty of innuendoes,   
The blackbird whistling   
Or just after. "

Watanabe challenged his audience to see texture, light, and shape separately and intimately, but also from a distance and as a cohesive whole. He allowed the eye to linger as a model perambulated down the runway and he forced the eye to chase after the models whose pace was brisker. Different ways of looking; different ways of seeing.

Later, on the same day, Kawakubo presented her collection in one of the elegantly aged stone courts off the Place Vendôme. Were the clothes beautiful? Not by any traditional definition. The first look was worn by a nearly ashen-faced model in an oversized suit-jacket with its shoulders hanging to near elbow-length. Her hair was Marie Antoinette white. She was followed by models enveloped in padded knits, not sweaters precisely, more like three-dimensional pattern pieces collected and assembled into pullovers and jackets and ready-to-wear flotation devices. The knits were stretched and inflated and tied into knots in the manner of a child's balloon animals.

The look was free form, but not haphazard. Just as one thought that a particular three-dimensional collage was a matter of chance, its twin followed it down the runway. Each knot was intentional. Each curious shape was purposely chosen.

The most striking moment was when a model appeared practically hidden by sweaters – the charcoal gray necklines pulled up and over her head. And that was also the moment when one fell in love with the collection. It recalled the raw and childish desire for the protective warmth of clothing, the sense of safety one has tucked into an oversized cardigan and the sweet naïveté of peek-a-boo. I can't see you; so you can't see me. Every now and then, life presents a situation from which you just wish you could disappear.

Throughout the collection, there are moments that call to mind stuffed animals, needlepoint pillows, traveler's neck cushions and even the large bundles of old clothes that are bound, shipped, and recycled or distributed to the less fortunate. None of these notions were overt. They were suggested or implied. It was all a bit like fashion therapy. What does this J-shaped knit poof mean to you? Premium economy!

Was it beautiful? No. But with everything else the collection had to offer, it didn't need to be.