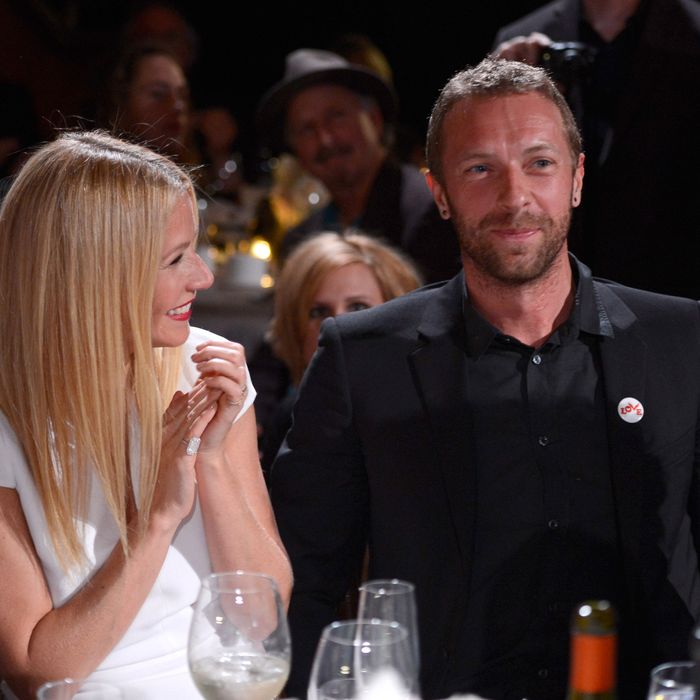 Photo: Kevin Mazur/WireImage
Gwyneth Paltrow and Chris Martin are divorcing, they've announced in a GOOP post entitled "Conscious Uncoupling." They write:
It is with hearts full of sadness that we have decided to separate. We have been working hard for well over a year, some of it together, some of it separated, to see what might have been possible between us, and we have come to the conclusion that while we love each other very much we will remain separate.
Following this brief missive there is a lengthy explainer about "Conscious Uncoupling" by Dr. Habib Sadeghi and Dr. Sherry Sami, who explain that yes, this is divorce, but the good kind of divorce:
The media likes to throw around the statistic that 50% of all marriages end in divorce. It turns out that's accurate: Many people are concerned about the divorce rate and see it as an important problem that needs to be fixed. But what if divorce itself isn't the problem? What if it's just a symptom of something deeper that needs our attention? The high divorce rate might actually be a calling to learn a new way of being in relationships.

Naturally, divorce is much easier if both parties choose to have a conscious uncoupling. However, your experience and personal growth isn't conditional on whether or not your spouse chooses to participate. You can still receive the lessons he or she has to give you, resist being baited into dramatic arguments, and stand firm in your internal, spiritual support system. By choosing to handle your uncoupling in a conscious way, regardless of what's happening with your spouse, you'll see that although it looks like everything is coming apart; it's actually all coming back together.
So it's a very GOOP divorce.