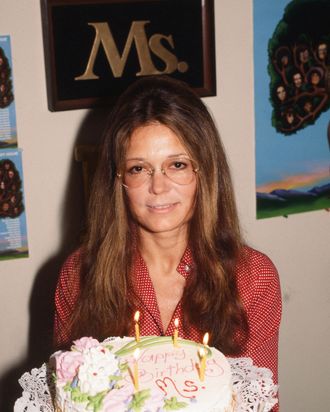 Photo: Robert R. McElroy/Getty Images
Scrappy and smart and gutsy and generous — Gloria Steinem is great and, also, 80! How wonderful. Here are some of her greatest hits from New York (both as one of the original staff writers and as a great interviewee on all manner of women-related topics):
- Her 1968 feature "Women and Power" about sex and politics and marriage and power.


Perhaps if women had more encouragement, more opportunity to gain power on their own, there would be less of the bitterness and hypocrisy that comes from using men for subversive ends. If society stopped telling girls that men can and should hand them their total identity on a silver platter, wives wouldn't be so resentful when it didn't happen. And ambitious women could relax, and look for pleasure instead of power in bed. Men ought to encourage the idea. It might take a load off all of us.
- Her 1968 feature on learning about Nixon.
- A 1969 feature, "After Black Power, Women's Liberation," about the 1960s feminist movement.

- New York's 2011 oral history of Ms., which recounts how the magazine's earliest days took place in Steinem's living room.

- A 2009 interview with Emily Nussbaum (alongside Suheir Hammad), in which Steinem looks back on her career trajectory and early goals:
I was looking to show business. [Laughs] How impractical. But the only place I saw women doing something nontraditional was there. I think show business was for us what sports is for boys in poor neighborhoods. So I was taking dancing lessons and lying about my age — at 12 pretending to be 18, because I was very tall. Working for ten dollars a night, tap dancing for two shows in the Eagles Club. But marriage seemed like the end of all choice. And so I kept extending that golden period.
- In a brief 2012 interview, Steinem says she doesn't know about Girls (Frank Bruni had just written of the show, "Gloria Steinem went to the barricades for this?"); by February 2013, though, she approves: "I am so relieved to see real people saying real words and wearing real clothes."
- And for the New York 30th anniversary issue, she talks about her old-age plans:
In my old age — really old age, since I'm going to live past 100, I hope — I would love to have a diner. A little diner with blue gingham curtains by the side of the road, because diners are the most democratic places. Everyone goes — truck drivers go, people from the neighborhood, people in their tuxes after parties go. And they're cheerful and cozy and you get just the kind of reward food you want. They're truly populist places. And in the back room, we could have a little revolutionary meeting from time to time.
Gloria's diner! We can just envision the sign. We'd love to go.