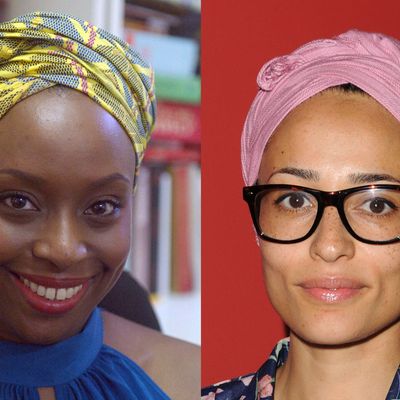 Literature, race, gender, fashion, love, and life! Two of the most intelligent, incisive, poised, and funny women in literature — Zadie Smith and Chimamanda Ngozi Adichie — sat down for about an hour to talk about every topic.
Here is a sample, on the topic of women characters in fiction. Zadie Smith begins:
Someone very unwisely gave my mother a copy of Bridget Jones's Diary in the mid-'90s — a book I find very funny and sweet — but for my mother, it might as well have been written in Swahili for the amount she comprehended. Her question was: What is wrong with this woman? What is her issue exactly? What's the problem here?
And Adichie says:
So for me I'm writing about women who are familiar. Not to say all the women I know are strong and have their shit together, they're not. But to say that idea of a woman being strong — simply being strong, not to prove anything, not to be unusual — is normal to me.
The whole thing is worth listening to. It's an hour long, which somehow feels too short.