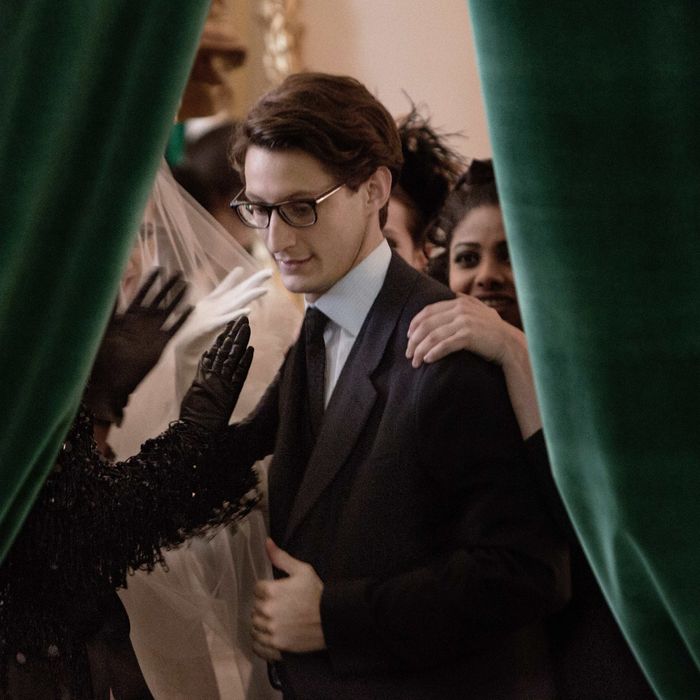 Photo: Thibault Grabherr/? Tibo & Anouchka - SND
If you've dipped into the European fashion press over the last three months, you've probably seen a whole lot of hype about Yves Saint Laurent, a French biopic that was released in the U.K. on Friday. Since it isn't out in the States until June, the Cut caught a London screening over the weekend to give you a preview of the four things you should know about the movie:
1. It's mainly about Yves Saint Laurent's troubled personal life.
Saint Laurent's legacy isn't only as a groundbreaking designer, but also as a major presence on the Parisian party scene of the 1960s and 1970s. He started out in fashion as an anxious, introverted young man who didn't drink — but within a few years he'd become a true celebrity, socializing alongside peers like Andy Warhol, Bianca Jagger, Lauren Bacall, Paloma Picasso, and Diana Ross. His private life was increasingly messy.
The movie is complimentary about Saint Laurent the designer (I lost track of the number of times he's described as a genius), but doesn't go easy on Saint Laurent the man. "You know, I'm not that nice," he admits early in the film. He's volatile, needy, and neurotic, suffering from manic depression and drug addiction.
Actor Pierre Niney looks strikingly like the designer (though also distractingly similar to Tobey Maguire), and portrays him as a nervous wreck, fiddling anxiously with his glasses and exploding into tantrums. If the film is to be believed, any stability in Saint Laurent's life came from his love of his work and his relationship with his long-term partner, Pierre Bergé. The most moving scene shows the two of them falling in love in the late 1950s — fooling around by the Seine in Paris, smitten with each other. They were together until the designer's death in 2008.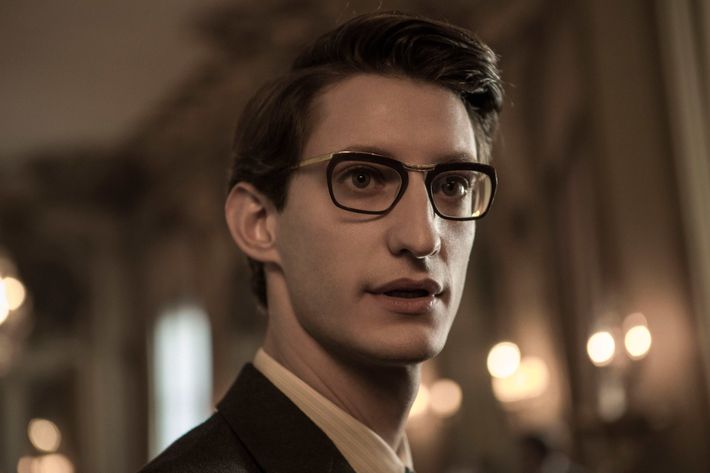 2. It was made with Bergé's input.
The film had the cooperation of Bergé and the Fondation Pierre Bergé-Yves Saint Laurent, which owns 5,000 garments and 35,000 sketches by the designer. Director Jalil Lespert had extensive access to the archive, and was also able to film at Saint Laurent and Bergé's stunning home in Morocco.
The clothes, of course, are beautifully presented. The costume designer, Madeline Fontaine, apparently had to work under incredibly strict rules. "We never loan out clothes, so each one came with a handler," Bergé told WWD. "The models were not allowed to sit down." Fontaine — who had to wear white gloves to handle the clothes — was told that the pieces for the show scenes could not be altered, and that she did not have permission to re-create them. Instead, she had to cast models to fit the existing dresses.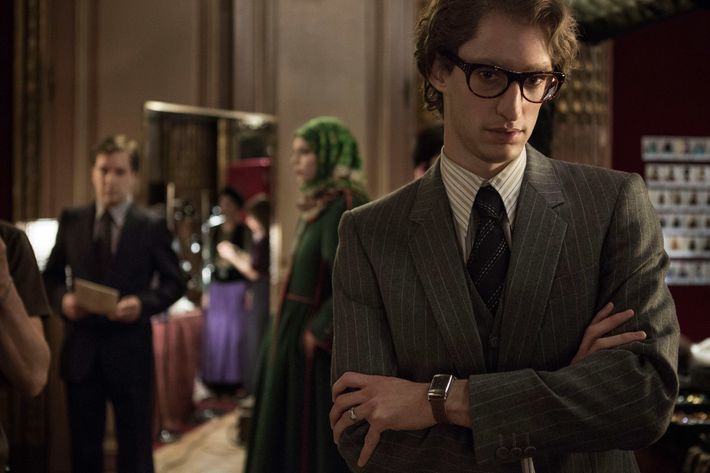 3. There's a rival, unauthorized movie coming out later this year.
The second movie, Saint Laurent, is being made by Bertrand Bonello, and does not have the backing of Bergé or the Fondation — in fact, Bergé has said that he'll sue Bonello if the designer's work is not portrayed accurately. "I certainly won't seek a ban on his movie," he told WWD, "but I do own the moral right to Yves Saint Laurent's oeuvre, and if the moral right is breached — in other words, if clothes or sketches that are not by Yves Saint Laurent are shown — then I do reserve the right to take action."
The French release of Saint Laurent has already been pushed back from May to October; it will be interesting to see how Bonello manages without the support of the Fondation, and how his story differs from Lespert's. What he does have going for him is an interesting cast — Chanel model Gaspard Ulliel as the designer and Léa Seydoux as Loulou de la Falaise — and the backing of Kering, the current owner of the Yves Saint Laurent label.
4. Side note for Karl Lagerfeld fans: A young Lagerfeld (played brilliantly by Nikolai Kinski) appears throughout Yves Saint Laurent, with a constantly evolving hairstyle, dishing out exactly the kind of affectionately bitchy remarks you would hope for. (Lagerfeld has apparently described Kinski's performance as "acceptable," which is probably a compliment.) We see him rolling his eyes and popping chocolates into his mouth at one of Saint Laurent's salon shows, and later hear that he's gone into ready-to-wear because he thinks haute couture is old-fashioned. Bring on a Lagerfeld biopic — it would be much more upbeat than this tale.
Yves Saint Laurent is due out in the States on June 25.