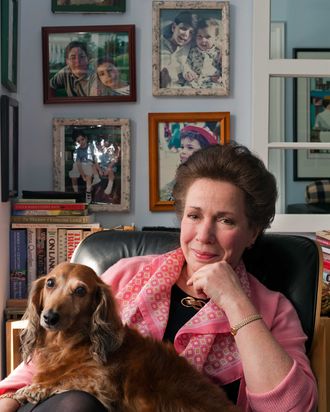 "You're so tall and thin! Usually I hate that body type," Susan Patton announces as I enter the living room of her sunny Upper East Side apartment. She's wearing a ringleted bouffant updo, a baby-pink cardigan, and matching silk scarf. Her dachshund, Lucille, runs circles around us, barking and barking.
Patton, also known as "the Princeton Mom," earned viral infamy last year when she wrote an open letter to the Daily Princetonian advising female students to "find a husband" before graduation. ("I am the mother of two sons who are both Princetonians. My older son had the good judgment and great fortune to marry a classmate of his, but he could have married anyone. My younger son is a junior and the universe of women he can marry is limitless.") Now she's written Marry Smart: Advice for Finding THE ONE, a sassy self-help book from Simon & Schuster. The publicity kit refers to it as "Lean Out for women like those on the campus of her beloved alma mater."
And Patton certainly loves Princeton. During my tour of her sprawling apartment, I try to catalogue the college paraphernalia on display but lose track after the first room. There are Princeton pennants and disembodied tiger tails and orange-and-black craft projects. Orange-and-black pebbles fill a decorative bowl; an orange-and-black quilt drapes the sofa; an orange feather boa sits on a shelf. "Who doesn't need an orange feather boa?" she asks, wrapping it around her neck and vamping. Lucille, Patton points out, has naturally orange fur. The only presence to rival Princeton is that of Patton's two sons, whose framed photos tile all vertical surfaces. Daniel, the elder, graduated from Princeton in 2010 and is now a lawyer. (His wedding to a fellow second-generation Princetonian featured a sing-along to Princeton's fight song.) Younger son Alex will graduate this spring.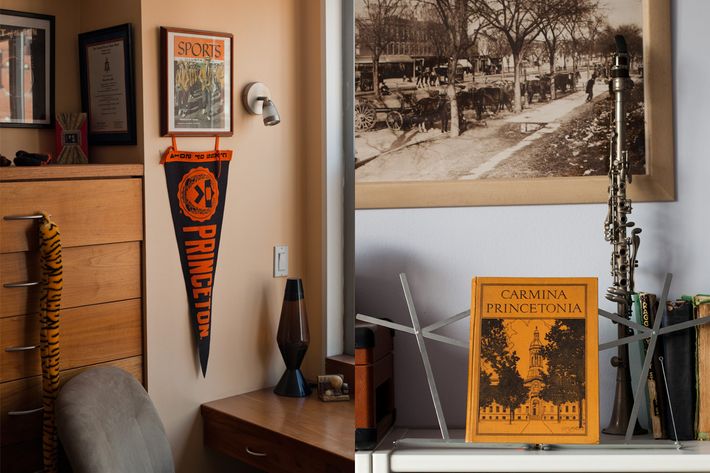 "My sons! Aren't my sons just the greatest thing in the world?" Patton marvels. She recently finalized her divorce from Daniel and Alex's father, a man who "went to a college of almost no name recognition," which she still refuses to name. Now she lives alone with Lucille.
The impetus for Patton's letter, she says, was provided by the "incredibly accomplished women" she met in the course of 18 years as a human resources consultant and life coach. "They come to me when they're in their mid- to late-30s and say, Susan you have got to get me out of here, I'm miserable. I'm talking about women who are editors-in-chief, heads of marketing, publishers. They're making 400 or 500,000 a year. They have wardrobe budgets, salon budgets, T&E budgets. Endless budgets! They're on every A-list in town. And they are profoundly unhappy. The job is not the problem. They have very good jobs. But they go home to an empty apartment." The lesson, according to Patton: "You've been so invested in your professional super-stardom that you took your eye off the ball. You have no husband and no children, but the ship has already sailed! It's too late. You don't get to have everything."
Marry Smart (which Patton plans to follow with Parent Smart and Work Smart) advocates starting the husband-search during the college years. Its advice ranges from practical ("plan for your personal happiness with the same commitment and dedication that you plan for your professional success") to old-fashioned ("it's the lonely cow that gives away free milk") to charmingly kooky (an ode to her "lifelong imaginary friend" Caroline Kennedy) to shockingly offensive (a chapter entitled "Birds of a Feather" denounces interracial and interfaith relationships). She also questions the legitimacy of date rape. "'Date rape' is like 'politically correct,'" Patton tells me, as she holds out a bone for Lucille. "Either something is correct or it isn't. Saying something is 'politically correct' is like saying you 'almost won.' You 'almost won'? That means you lost."
"Rape is rape," she goes on, using the term "mistake sex" to characterize intercourse with a woman too drunk to consent. "I'm troubled by the term 'date rape' because it diminishes the true horror of rape. I cannot think of a more horrific crime. Maybe child abduction."
It would be easy to caricature Patton as an old-fashioned, paternalistic snob — but her snobbery is actually quite modern, and fueled by an unexpected streak of feminist gumption. Patton was raised in the Bronx by Eastern European immigrants. "They survived the Holocaust. My mother was in Auschwitz; my father was liberated from Bergen-Belsen. They came to America with very old-world ideas about women." Though she was at the top of her class at her public high school, her parents opposed a college education. To apply to Princeton, Patton had to declare herself an emancipated minor. "I wanted a much broader life than just motherhood. My parents didn't see the value in that, they couldn't understand. They saw it for my brother, but not for me. And he would tell you this: He wasn't much of a student. But I was, and I always wanted a bigger life, a more creative life, a more engaged life, out of the Bronx."
When Patton first arrived at Princeton in 1972, she and her classmates took an essay test for placement in English class. The best writers placed into Advanced Shakespeare; mediocre students took the standard English Lit 101. Patton was one of 20 students placed into a remedial catch-up class. "We came to call it Il-Lit 151," she remembers. "They posted all the scores outside the chairman's office. It was humiliating, my first test at Princeton, and I did not fare well. I had no idea how to communicate in a scholarly way. Mine was the only English-sounding name in the class."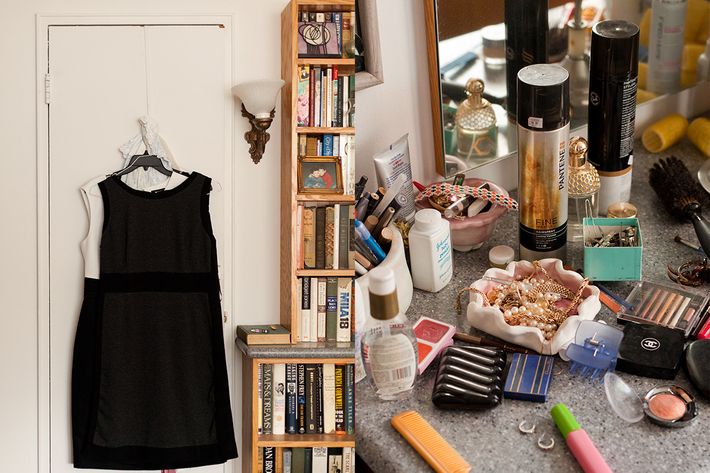 "It was a difficult transition, from my parents' home to Princeton," she continues. "I had never been to a cocktail party. I didn't own a black dress. I didn't own pearls. I had a terrible Bronx accent that was the source of some ridicule." To finance her education, Patton took out loans and worked at the faculty dining hall. When a socialite lent her a gown to wear to a masked ball at Princeton's McCarter Theater, Patton thanked her by creating a custom mask — then turned couture masks into a business that made her $3,000 in about a week. 

She fell in with a glamorous crowd. "Imee Marcos was a good friend of mine," she says, referring to notorious Filipino dictator Ferdinand Marcos's daughter. "This was before her mother and the shoes, but her father was very much understood to be a dictator. She took a lot of crap." The two friends dined at the Plaza Hotel and studied together on campus, Patton says. "She had this — I guess it was the earliest rendition of a cell phone. It was the size of a shoe box and connected her with her bodyguards. But when we were studying, if she wanted a pizza, no joke, she would buzz this guard named Romeo, and he would get a pizza. And I was like, Imee, you've got a hot line to God!"
Though less domestic than her parents might have liked, Patton still wanted to marry and have children. But women's liberation was in the air, and she was too embarrassed to husband-hunt on campus. (Princeton first admitted women in 1969.) "After I graduated I spent years dating men who were not nearly as good as the men in my class. Ultimately I married the man I was dating when I was 31, because I was running out of time to have children."
The divorce was difficult. She prefers not to discuss her ex-husband. "But I got what I wanted most, my two sons. As I said to you before, you don't get to have everything."
Now that she's back on the market, Patton reports that she has "many boyfriends," at least two of them Princeton men. She dreams of remarrying in the campus chapel: "How fabulous would that be? With orange roses."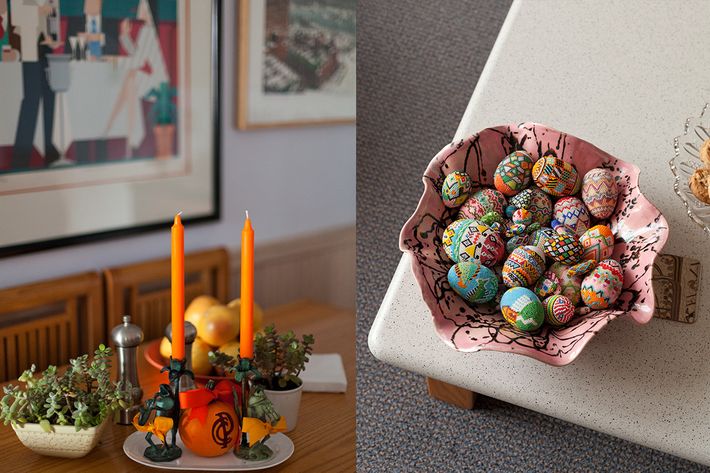 Dating in her 50s has been a revelation. Now that she is no longer interviewing candidates for the potential father of her children, she is free to date men she finds "fun, funny, entertaining, sexy. It's wonderful, absolutely wonderful! I'm financially independent. I look great. I'm healthy. It's never been better!" 
That sense of fun, I tell her, is how many of my friends feel about dating in our 20s. We're independent and content with our lives; why not dating freely while we're still young and hot? ("I'm old and hot," Patton pouts.) I ask her to coach me like a client, then tell her about my life: I am the product of an interracial marriage between a Princeton man and a Filipino immigrant. (My mother protested the Marcos regime.) I am 29 years old and single, a Princeton graduate who rarely thinks about marriage. I've had a few serious boyfriends, but I keep breaking up with them, I guess because I'd rather be single and have casual sex. Patton recoils visibly every time I say "casual sex," but considers carefully nonetheless. "Do you want to get married?" she asks. "I don't know," I reply. "You should know by now. Before you leave here today, you should decide." With her legs folded beneath her, Patton's demeanor is now somewhere between "gossipy girlfriend" and "meddling aunt."
She asks if I want children. "I don't know," I repeat. "If you can't decide, then the decision is going to be made for you," she says. Adoption is a difficult and expensive process; so is IVF. Maybe I can wait until the divorce wave, I suggest, then marry into stepmotherhood?

"Is that what you want?" she says, shaking her head in disbelief. "You want to raise another woman's kids? Terrible, Maureen. Terrible, terrible, terrible."
Maybe I can wait until I'm in my 50s, then enjoy a Patton-esque renaissance? She throws her hands in the air. "You really don't want kids? What is your mother saying?!"
"She's pinning her hopes on my brother," I reply.
Yet in spite of it all, it's hard not to be charmed by Patton's spirit. In Marry Smart, she claims to love the "Princeton Mom" nickname. And really, why shouldn't she? Motherhood and Princeton — and mothering Princetonians — are among her proudest accomplishments. In the aftermath of a difficult divorce, returning to those accomplishments has given her a new lease on life: a Princeton-themed self-help empire, a platform to celebrate her sons, and dates, finally, with men who make her happy. Sexy men. Smart men. Men who can give her the orange-flowered wedding she dreams of.
Susan Patton is in her prime.