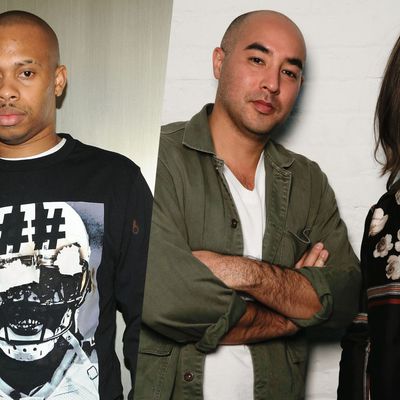 Photo: Ben Gabbe/Getty Images; JP Yim/WireImage
LVMH has announced the finalists for its 2014 Prize for Young Designers — a new award for big-time designers to shower money on an up-and-comer — and they are the following: Atto, CG, Gabriele Colangelo, Hood by Air, Jacquemus, Miuniku, Simone Rocha, Suno, Thomas Tait, Tillmann Lauterbach, Tim Coppens, and Vika Gazinskaya.
The judges include Karl Lagerfeld, Phoebe Philo, Marc Jacobs, Riccardo Tisci, and Nicolas Ghesquière, among others. They were apparently asked to vote for their ten favorite candidates, but because there were so many good options and it was so hard to choose, they bumped the number of finalists up to 12. Though the prize is the brainchild of Delphine Arnault, Bernard Arnault was, according to WWD, "so impressed with the field of designers that he joined the expert panel and cast his vote for his top 10" as well.
The winner, which will be announced May 28, gets a grant of 300,000 euro plus a "year of coaching," so it really is like Project Runway and Hunger Games wrapped into one — with Arnault as President Coriolanus Snow and Jacobs, of course, as Cinna.