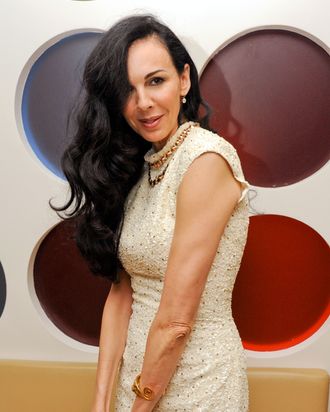 Photo: Neil RamsusNYC.com/BFA
In her first story since retiring as the chief fashion critic at the New York Times, Cathy Horyn wrote a moving tribute to her friend L'Wren Scott. In the piece, she describes Scott's warmth, calling her "Glinda the Good Witch," her all-too-rare sense of privacy ("She had firm boundaries, and they applied equally to her relationships and confidences"), and her ability to give great girlfriend advice: "Dr. Scott is on the line," Scott texted Horyn last fall.
But Horyn says that Scott, who was found dead of apparent suicide on Monday, was planning to close her business. She was apparently going to make the announcement today. But, Horyn cautions: "Still, as painful as the decision must have been for her, I wouldn't draw any conclusions from it about her state of mind. Nor should any credence be given to reports of a breakup with Mick. It's rubbish."
Horyn also remembers warning Scott two years ago against letting work stresses affect her well-being:
Like many small designers, she had problems managing her business: cash flow, finding the right managers, getting her goods out of Italian factories on schedule. Two years ago, our friendship was tested when, after hearing her troubles, I told her she should give herself a time limit to resolve matters or get out. Putting her health in jeopardy because of stress was not worth it, I told her. She didn't like the advice. And true to form, she dug in.
When they spoke in February, Horyn writes, "I was surprised to hear how run down and discouraged she sounded. She spoke of production problems, forcing her to cancel her fall show. Again, I urged her to put her health first." Finally, she writes: "She was with friends on Sunday night, and, yes, they were deeply concerned about her, but, no, they didn't think she would do something so desperate. Not L'Wren."