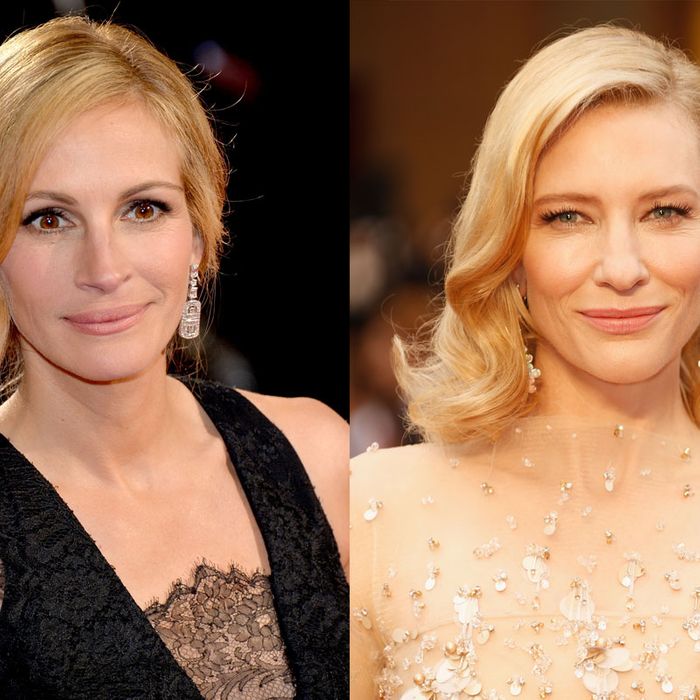 With her win for Blue Jasmine, Cate Blanchett joined the exclusive ranks of two-time Oscar winners. But evidently she was already a member of an even more exclusive club: the club of people who have inside jokes with Julia Roberts. She said in her acceptance speech:
Amy Adams, everything you do but your performance in American Hustle blew my mind. Meryl, what can I say? Sandra I could have watched that performance until the end of time … and I sort of felt like I had. Julia, hashtag suck it, you know what I mean. And Judi Dench, I mean what a career …
Julia, hashtag suck it: This random spattering of words has all the classic elements of a middle-school-level inside joke. It's an unorthodox sentence structure. It's slightly, self-consciously raunchy. And mostly, it implies that its meaning is something that Cate and Julia, and only Cate and Julia, will fully comprehend. You know what I mean.
It even has a mysterious origin story: the true centerpiece of an inside joke, especially one predicated on trying to get other people to care about it. When asked by reporters — the people who just want to know what happened, guys? Guys, what's so funny? Why is everyone laughing? — Blanchett remained "cryptic." This is from the Hollywood Reporter:

It happened in the bar with Ms. Roberts. And that's all I'm prepared to say.
With that, the rest of us can go suck it.