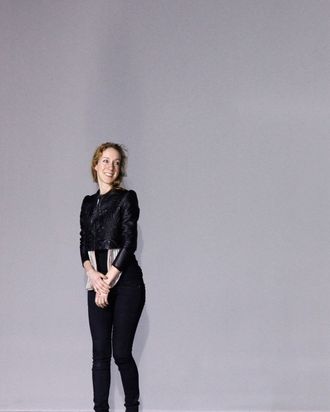 For her fall/winter collection, which showed last month in Paris, Dutch designer Iris van Herpen presented a mixture of ready-to-wear and couture pieces: coated fabrics made to look like stingrays, luminous beaded accents inspired by opal stones, molded boots produced by United Nude, and entrancing dresses that looked like sheet metal had sex with a waterfall. As the collection walked, three models at the center of the runway were vacuum-packed with breathing tubes and suspended in midair. It was an unforgettable performance piece that unnerved even the most experienced showgoers. As the Cut's own Robin Givhan tweeted: "I can't watch the show. I keep staring @ vacuum packed model to see if still breathing."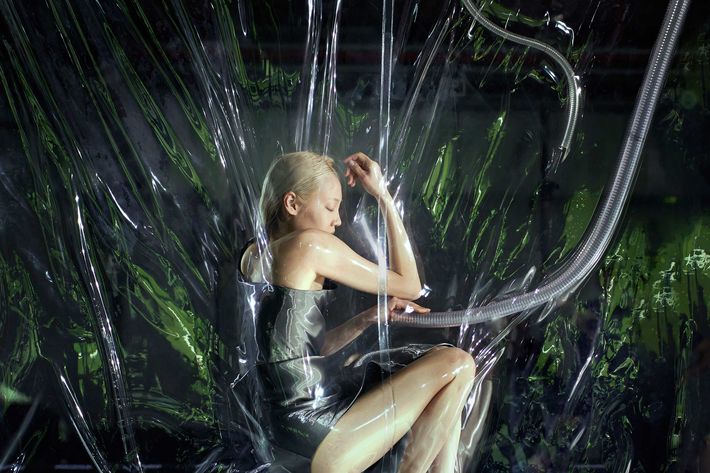 Van Herpen famously uses intangibles — be it synesthesia, mummification, electromagnetic waves, or vibrating particles — and imaginatively sparks these concepts to life. After completing fashion school and doing a stint at Alexander McQueen, van Herpen began showing her namesake label at Amsterdam Fashion week in 2008. Today her work is included within the Parisian Haute Couture cycle, ever since her guest invitation in 2011 (and pending membership) with the notoriously exacting Chambre Syndicale de la Haute Couture. Time named her 3-D-printed dresses one of the 50 Best Inventions of 2011, and her work has been scooped up by the likes of Björk and Lady Gaga.
Van Herpen's work is created using an interdisciplinary, researched approach that finds her collaborating with artists, architects, and scientists. (Many of these relationships are celebrated in the latest issue of A Magazine, which she guest edited and filled with in-depth interviews culled over a year.) After her ready-to-wear show, van Herpen spoke to the Cut about her enriching creative partnerships, her design philosophy, and how experiences that freak other people out make her calm.
To begin: Tell me about the obviously very memorable installation.
It's an artist installation by Lawrence Malstaf. He's an artist from Belgian, and he lives in Norway. He works a lot with kinetic installations connected to biology and psychology. There were three models vacuum-packed in plastic. The collection is called Biopiracy. It's a bit inspired by the fact that parts of our body, a lot of our genes, are patented. Meaning that we don't really own them. That, to me, was strange because you really feel, as a person, you own yourself. It's a very surreal idea that maybe it's not like that. The installation, for me, represents an image where the body belongs to something else, and it's also, at the same time, a way to go really deep inside yourself again. I actually [went inside the bags] myself, and it's very meditative. You hear your breathing; you feel your body in a different way. Mentally, you are coming into a really different state of being, and that's exactly what I wanted to reach. It's very transparent, but at the same time you feel really far away.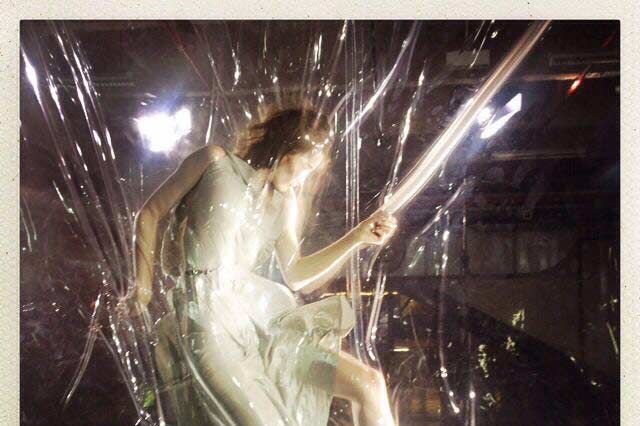 How did you find willing volunteers?
I thought it would be really difficult, but it was actually not that difficult, in the end. I asked two models whom I've worked with before. I asked them because I know their personalities, and I thought, Hmmm, they will be interested. Soo Joo [Park] has really performative skills, and she's really calm. And I think that's what you need to be. If you're an energetic and chaotic person … well, in the end, I think everyone can do it. A lot of people from my team did it as well. For casting, I selected girls I thought were calm and strong. Iekeliene Stange — she's a Dutch model. And then we had Hannelore Knuts, who is also a strong woman that has really performative skills. They tried it the day before the show, and they were fine.
At what point did you decide to that mise-en-scène? Was that part of the idea of Biopiracy from the get-go conceptually tied in?
It was really part of the whole concept. The work of Lawrence Malstaf inspired me for the whole collection. It's really a collaboration. We haven't been working on the actual garments together, but his work and the impact that this work has was the inspiration.
The approaches to all your collections are always conceptually very strong. Does the concept come before the clothes and then you build, or inversely?
It depends. Mostly, at the beginning of my process, I don't like to pin myself down. I don't want to know my concept yet. It's really like an experimentation in material and techniques. It's a lot of research. I'm just looking around for artists I want to work with or people who have been inspiring me. Once I'm a little bit further in the process, then I dare to pin myself down to the concept. The work in my hands and intuition — they both have to be part of it. You sometimes make mistakes that are actually a starting point for something.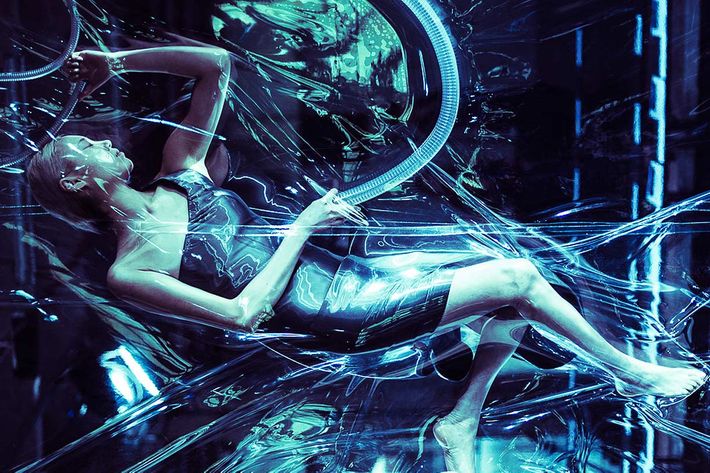 With these avant-garde materials, how do you venture forward without having any precedents?
It's difficult. It means a lot of failure. You just try a lot of things out. I do a lot of research online as well. I work with biologists at MIT, and they come up with a new material. You have to come to a stage where you have a control of the material, and the material is not controlling you. And you don't always reach that stage. With some materials, you cannot get to the stage where you really want them. Maybe half of all experiments that you do end in the rubbish bin. And I do think the process becomes shorter; you realize sooner when things don't work. You try to get as much knowledge on the material as possible.
Your forte is thinking about fashion in relation to other milieus. Why work so often with people outside of fashion?
I think the world of fashion is quite protected. It brings a lot to me, a lot of inspiration and of knowledge, when I work with people outside fashion. Like the architect Philip Beesley. I've been working with him for a while. It's not always very concrete. Even seeing the way he works and materials he uses just opens up my mind for new constructions, for new techniques, for new materials. Neri Oxman is another example, she's working for MIT; we've been working on 3-D prints together, creating a neo-flexible material. It's just really special to work with something that didn't exist beforehand.
In the beginning I always tried to manipulate my materials into a new product, but I'm trying more and more to develop new materials. They are really long processes. It's hard because your collection time is always really small, but that's why I try to work on projects without an end goal. Maybe I'm going to use it in my work in one or two years. If I only thought in the fashion [industry] time frames … I would never be able to bring myself forward.
Now you're even more enmeshed in the schedule, because you're doing ready-to-wear. Why did you decide to?
Well, couture is my inspiration and the base. It's my heart, so I will always keep on doing that. But I also felt that I've been working on couture for, well, five years, though I didn't call it couture in the beginning, because I wasn't showing it in Paris. But it was basically the same craft and handwork. Every collection, there have been techniques and materials being developed, and it's always used for one or two dresses, and they end up in museums, which is great, or a special person orders it, but it's almost a shame to develop a new technique, or material, and to use it for one or two garments. In couture, I really feel that I have to develop something fully new. Ready-to-wear is really a moment where I can give the new techniques and materials a longer story, that I can develop into something wearable and producible for factories. I'm really happy I can do couture, because that's the reason I can collaborate with all the people from outside fashion, because they are not so interested in ready-to-wear. They see that even fashion has some interesting paths and some designers are thinking more widely than only fabrics. I think even ready-to-wear [pieces] are special — you're going to wear them for a special event.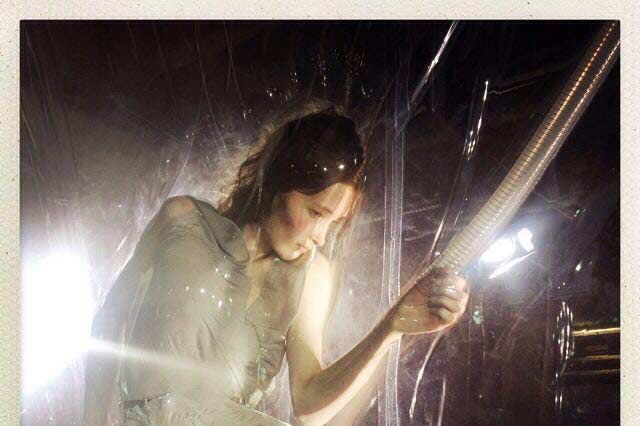 You've been a guest member of the Chambre Syndicale de la Haute Couture since 2011. What does that inclusion mean to you?
I really admire the work of couture. It's the starting point of fashion. If there were no such thing as couture anymore, I think fashion would become only business. In haute couture, there are people not only thinking about traditional craft anymore. It's the place where there's time and money to really develop something special, where it's purely inspiration that is leading, and not the sales outcome.
For me, haute couture is really important. I really like to combine the two. There are still couture pieces in the ready-to-wear. I could also show my work during couture. In the end, it's a work of creation. Some pieces will be made in my own atelier, and some of the pieces go to a factory and the stores, but it's becoming more and more one to me. Like with a 3-D print, you can call it couture, but there's no handwork involved. So it's something on its own. It's going to be a new era. What is that name going to be? People can order the piece in their size because it's 3-D printed, and you can scan your body and have this perfectly fitted garment that is made in a special, time-consuming way. Are you going to call it ready-to-wear or couture? Maybe I'm going to need a new word for it. Those names are a bit outdated.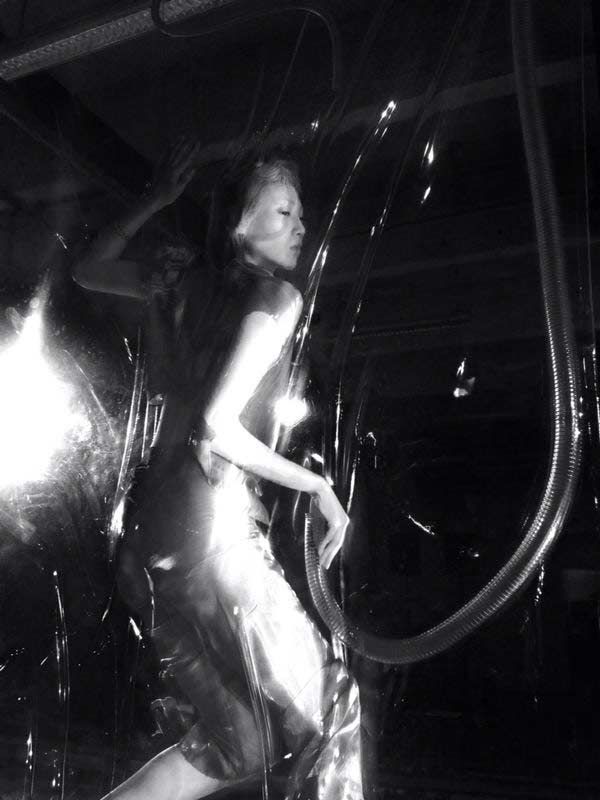 What are the origins of your fascination with new materials and technology?
When I started becoming really interested in fashion, it really came out of my love for materials. When I was younger I danced a lot; I thought I wanted to be a dancer. But I discovered that working with my hands and discovering materials … I really missed that in dancing, because it's so nonmaterial. There is nothing you create apart from a movement with your body. I think that's the core of my fascination with fashion: It's transforming materials into something that is showing off the feminine body, or transforming it, or having a dialogue with it. It's such a personal way of creating something. It's not only that you give someone something to wear — it's also that the wearer really gives something to your creation. And that interaction is really interesting … the identity that you bring to the piece. The fascination for materials is my drive, and, later on, the fascination for technology. The two work perfectly together.
How do you deepen your research about these subjects?
The best way for me to learn is through people. It's a really small world; once you know a few, you know a lot of them. For example, Philip Beesley is an architect who works in many different fields. He has a huge team of people around him. It's like a living library of people around the world. Most of them teach at really good academies, so that also brings me to a lot research done at universities. That's a perfect way of learning.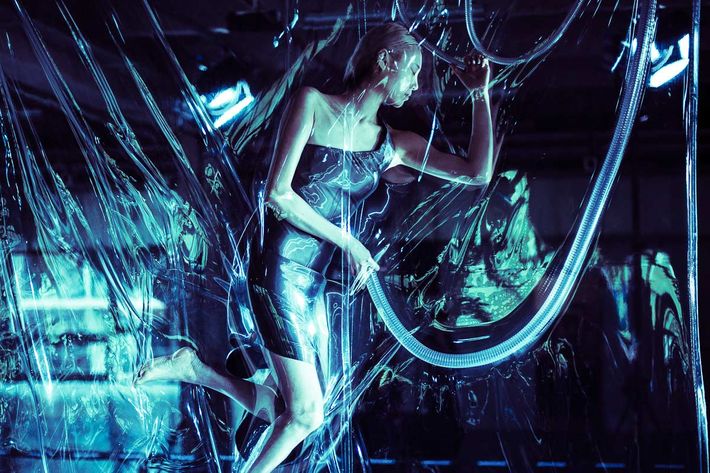 You've said that you don't agree with the philosophy "form follows function." Can you elaborate?
Form follows function sounds logical. When I create, that's not the end goal that I have in mind. The process of creation is really important on its own. For me, it's the material and the form that is leading, and I bring it toward a body, into something that has a maximum of movement. A lot of work I do is by moulage, not sketching. I like to work in a three-dimensional way in my process. I try to not always follow the body but to transform it.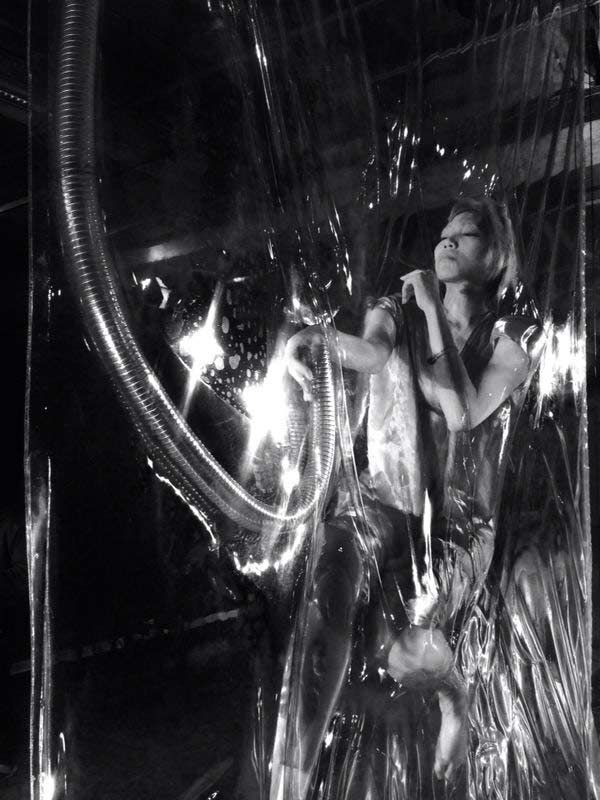 Does being a Dutch designer mean something to you?
I don't really feel Dutch. I do think I'm pretty grounded. I'm surprised by how often people see things as scary. I do skydiving sometimes, and people think it's like an act of suicide. Or the installation — for me, it was something really peaceful, like suspending yourself in time. Of course some people see it as something really frightening, but I've never looked at it that way.
You've talked about the network of people you have collaborated with — is there someone you would like to work with but haven't yet?
An artist called Choe U-Ram; he's from Korea. His work is kinetic and sculptural. It's superorganic but super-technical at the same time. I would love to do something more with dance, or even film at some point. Maybe David Lynch!