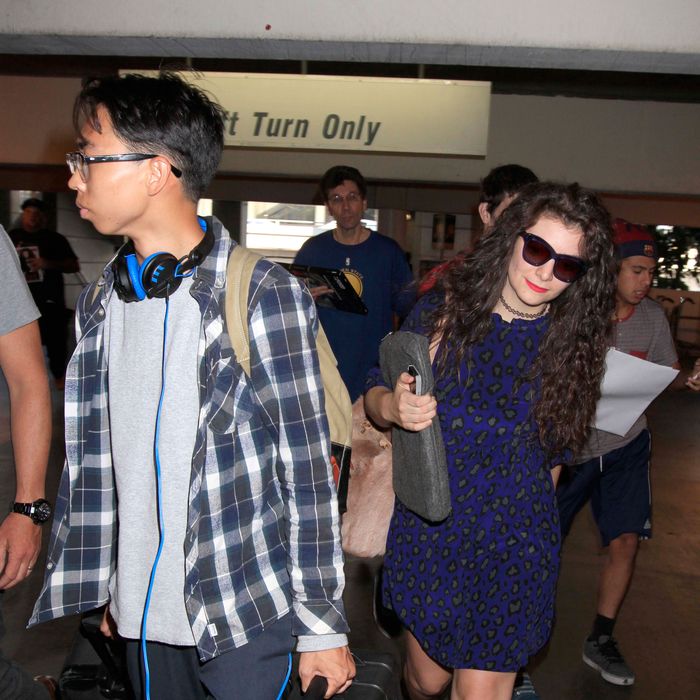 Photo: Sharky / Splash News
On his blog Ono Field, photographer James Lowe wrote an essay that rings of twentysomething truths. It's about long-distance relationships, which are challenging, but also about dating someone (Lorde) who is suddenly, extraordinarily famous. So lots of life-figuring-out questions, with a dose of commentary on Tumblr and the nature of fame (holla Jared Leto quote). Lowe writes:
Since originally sitting down to write this post, Ella has become a two time grammy winner. She has taken home a Brit too. Currently she is on the opposite side of the world on tour. As much as I miss her, I couldn't be prouder of what she has achieved so far…

Jared Leto said that fame doesn't change you, it changes everyone around you. While I'm not the centre of attention here (and fuck, the times I have, it's never been fun), I do become aware of the people around me and their transparency. They fail to hide it. I've experienced being a target of the tabloids, finding moments I thought I was in safe hands splattered all over the internet, being pushed and shoved, or watching others get pushed and shoved by paparazzi just to get what they think they're entitled to. While I'm dragging on about the negative aspects, they are only a small part of my world now. There is a bright, shining silver lining to this thing I've been exposed to.
It goes on to marvel at airplane travel, which is endearing. Three cheers for supportive boyfriends.