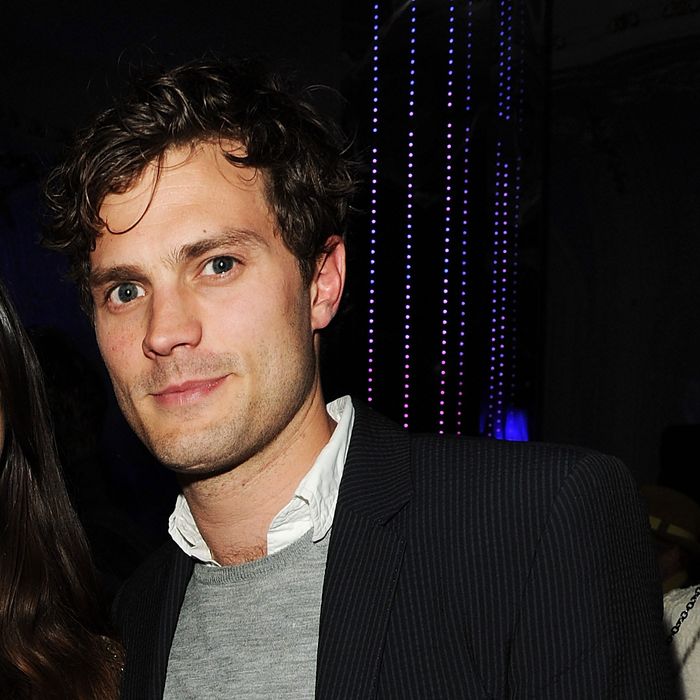 Photo: Dave M. Benett/Getty Images
Jamie Dornan, who will play Christian Grey in the forthcoming adaptation of Fifty Shades of Grey, has the herculean task of living up to the expectations of the legions of dedicated fans who know every detail of the book's BDSM sex scenes. According to E!, the actor has revealed how he got himself in the mood for those sexy days on set: by watching the Sex and the City boxed set.
This is worrisome. Is a show that popularized Manolos and Magnolia cupcakes really going to inspire the sexiest sex scenes known to man? Will Samantha, Carrie, Miranda, and Charlotte living, laughing, and having "meaningful" sex in New York City really prepare a man for Ben Wa balls and whips? The Cut says nay.

Dornan, get it together, man. Watch anything on the Cut's list of steamy, twisted, psychosexual movies that explore the erotic side of dominance and kink as research. We promise you, these movies will be better:
Secretary: A lovesick submissive administrative assistant, Maggie Gyllenhaal, goes on a hunger strike until her boss, played by James Spader, will spank her again.
Blue Velvet: A femme fatale torch singer and a college student in a David Lynch psychosexual love story.
The Libertine: A historically accurate film about the wide-ranging and insatiable sexual proclivities of John Wilmot, second Earl of Rochester.
Last Tango in Paris: "Go get the butter."
The Dreamers: An American student in Paris gets erotically entangled with an eccentric (incestuous) brother/sister duo.
Caligula: A historically accurate film about the wide-ranging and insatiable sexual proclivities of Caligula, the Roman emperor.
9½ Weeks: Mickey Rourke and Kim Basinger engage in the raunchiest, most erotic raiding-the-fridge scene in cinematic history.
Tie Me Up! Tie Me Down!: A Pedro Almodóvar movie in which a recently released mental patient holds an actress captive until she falls in love with him. It works.
Pink Flamingos: A John Waters film, Divine, and sex with a chicken.
And for some comic relief — because harnesses and blindfolds can be fodder for hilarity — try the 1994 Rosie O'Donnell vehicle Exit to Eden, about an undercover cop who infiltrates a BDSM island.